Defending Rihanna From the New Culture Police
Her "Bitch Better Have My Money" video is a slick, seven-minute slice of all of Rihanna's glorious pop toxicity-and that's "problematic."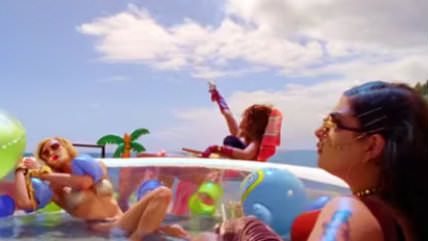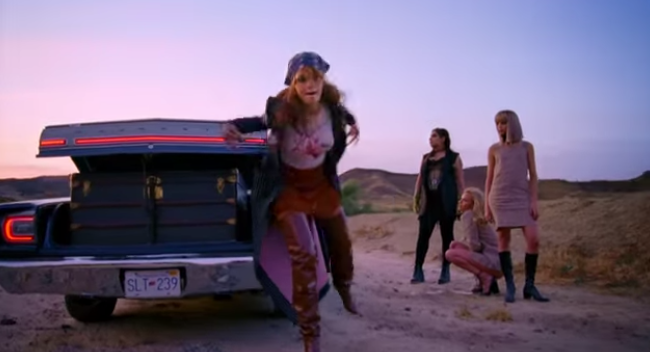 Rihanna, the best and sexiest thing to happen to popular culture in a decade, has had her fair share of run-ins with the morality cops. She gets the Moral Majority hot under their starched collars with her refusal to wear many clothes. That she has a tattoo of a gun, smokes weed, and relishes having loads of money—she's Instagrammed pics of herself standing on piles of cash in stilettos—doesn't sit well with the anti-fast living crew. And she riles the finger-wagging wing of modern feminism, as well. When she got back with singer Chris Brown in 2012, despite the fact he beat her up in 2009, the sisterhood effectively cast her out as a dumb-as-shit broad who doesn't know her own mind. Now, not content with having caused gnashing of teeth among the religious, the feminists, and the anti-drug crowd, Rihanna has rattled another constituency: what we might call the new policers of culture, the growing army of online warriors who think nothing of judging art and entertainment not by whether it's good, but by whether it says the right thing.
Rihanna's video for her new song, "Bitch Better Have My Money," has caused just about everyone to have a fit of Victorian vapours. Co-directed by Rihanna, it's a Tarantino-esque, blaxpolitation-style mini-movie in which Rihanna plays a woman screwed over by her rich accountant who decides to get revenge by kidnapping his beautiful, blond wife. Said wife is shown hanging upside down from a rope in a warehouse, being hit on the head with a bottle, and suffering other abuses at the hands of Rihanna and her all-female crew, all while Rihanna sings: "Bitch better have my money!" Look, it won't make Werner Herzog feel threatened, but it's a slick, seven-minute slice of all of Rihanna's glorious toxicity. Unless you're one of the new culture-policers, that is, in which case it's an outrageous glorification of misogyny, racism, violence, blah blah blah.
Ours is an era in which no piece of popular culture escapes the Media Studies pontification of those sad people whose favourite word is "problematic." And to them, everything is problematic. As Drew Magary says, "There's a whole black hole of the internet that spends all day up its own ass, endlessly worried about approving of pop culture rather than actually fucking enjoying it."
So it has been with Rihanna's most recent video. Instead of enjoying it—or not, if it ain't their kind of thing—people are think-piecing the video to death.
"It seems traditional to apologise for being too white and past-it to comment on any video by a young black artist," says a white and past-it columnist, before unapologetically branding Rihanna's video "crude" and "pure misogyny." Another writer (whose piece comes with a trigger warning) says Rihanna's video is "not very feminist." To which the only response is: so what? Neither was the work of the Marquis de Sade or J.G. Ballard's Crash or Robert Palmer's video for "Addicted to Love"—still all brilliantly entertaining, though.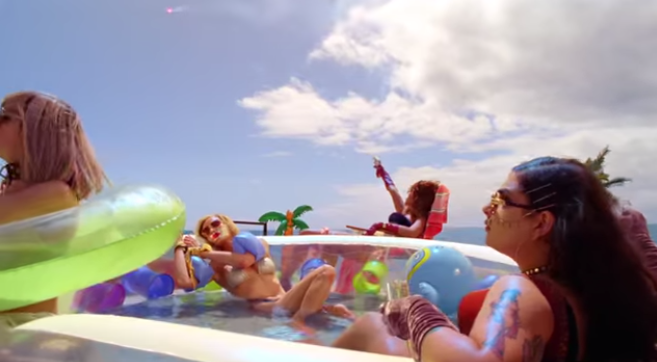 Yet others have accused Rihanna of "internalized misogyny." It's one of feminists' favorite tricks: to suggest that any woman who thinks differently than them must have thoughtlessly imbibed male hatred for women and allowed it to frazzle their brain cells. Ironically, this may be the most anti-female idea around today, that women are so easily brain-fried by the culture that (allegedly) surrounds them.
Whatever critics' particular beefs, this branding of Rihanna's video as "problematic" speaks to one of the ugliest strains in the West today: the moral policing of pop culture. Whether it's movies being branded insufficiently feminist (Gone Girl), computer games being called out for featuring sexual violence (Grand Theft Auto), or pop songs being banned by students for being too dirty (Blurred Lines), we seem to have lost the ability simply to enjoy culture—its drama, its thrill, its tunes—and instead now say: "Ah, but does it conform to my political and moral viewpoint?"
As the "problematic" lobby grows, we should heed the words of Ray Bradbury. He once received a letter from an earnest liberal-arts student suggesting he rewrite his Martian Chronicles to include more female characters. Such an attempt to "interfere with aesthetics" was intolerable, Bradbury said.
"There is more than one way to burn a book. And the world is full of people running about with lit matches," he later wrote. "The real world" is the place where you can make your moral case and try to reshape politics, suggested Bradbury—"but the tip of the nose of my book or stories or poems is where [your] rights end and my territorial imperatives begin, run, and rule."
Today's constant branding of certain forms of pop culture as "problematic" is the book-burning of our era. It creates a climate in which artists feel under pressure to make their work more morally palatable and politically acceptable, to water down their "territorial imperatives"— that is, their artistic freedom—at the behest of the new culture-policers.
We once thought pop culture would be slayed by old-style moralists, or that it would eat itself. In fact it's being killed in slow motion by a new generation of observers who seem to think culture should not only entertain them but also embody their moral outlook. What extraordinary arrogance. Rihanna, like Ray Bradbury, should tell them to get fucked.