No Scarcity of Options for Getting Around, Says NYC Council Member Working to Slow Uber's Growth
Stephen Levin wants to cap the number of livery cars while the city studies their environmental impact.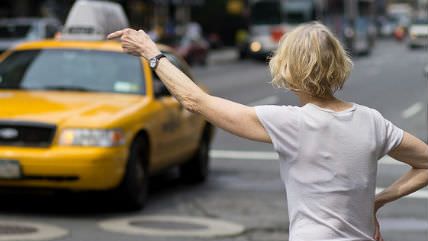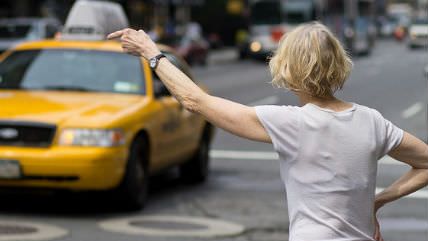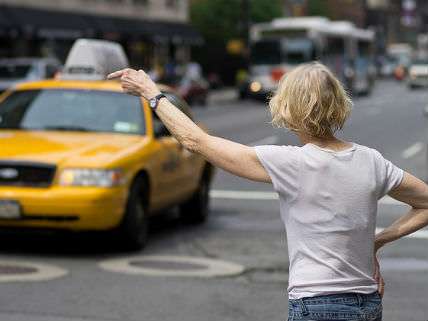 "I don't think that anyone who lives in New York right now is saying that there's a scarcity of options for for-hire vehicles," says New York City Council Member Stephen Levin, who represents Brooklyn. "It's not hard anywhere in my district at all to find some type of either [outer-burrough] cab, Lyft, Uber, or livery within a matter of minutes, at any time."
Levin has introduced legislation to limit the rate at which livery and black-car service providers are allowed to grow. Specifically, he wants to cap the number of new cars that can be affiliated with a large "base station," like one of Uber's, to 1 percent per year while the city conducts a study on their environmental and other impacts.
Interested parties can voice their opinion at a hearing next week, but for his part Levin thinks people already have plenty of ways to get around.
I'd be curious to know whether New Yorkers agree.
Levin's constituents' reaction to his proposal apparently hasn't been pretty. He acknowledges Uber's customers are making their dissatisfaction known. "I've gotten several hundred emails in the last two hours from Uber patrons," he says. "I'm getting a lot of tweets and emails and phone calls to the office." He believes the attention came after the company sent an email to their users in his district, asking them to oppose the proposal.
I haven't seen polling data on whether city dwellers (and visitors) are satisfied with the transportation options currently available to them. But perhaps there's other evidence we could look to—like, I don't know, the fact that ride-booking services are registering so many new cars in the first place, which pretty convincingly suggests that people's needs aren't yet being met.
"About 25,000 black and livery cars have been added to the streets since 2011, when Uber began operating in New York City," according to a story from the New York Post. Incidentally, that's the same data point Levin is pointing to as justification for (temporarily) stalling the industry's growth.
"New licenses for for-hire vehicles are being issued, right now, left unchecked, at 2,000 a month," he says. "And there are environmental impacts to that, because you have 25,000 new cars on the road that are driving around all the time. There is an impact to congestion, which slows down city buses, for example…There could be health impacts, potentially, with asthma rates. Regardless, it's something that needs to be studied."
Of course, he doesn't want to study what's happening naturally over time—his plan would all but freeze the industry while the Council evaluates things as they are today. Otherwise, he says, "if you were to allow the same rate of increase to continue during the course of the study, the findings would be obsolete by the time they come out."
I asked Levin why livery companies would be adding 2,000 cars every month if there weren't a "scarcity of options" in New York.
"Um…because…I mean, I don't know," he says. "I think that's one thing the study can look at."
UPDATE: Uber's Matt Wing sends the following statement: "Three months ago, the taxi industry put forward a proposal to protect the status quo, and limit competition and innovation. Today, the de Blasio administration and City Councilmembers revived a nearly identical proposal. Unfortunately, this would reverse improvements made by Uber and others to our transportation system and most notably, stand between New Yorkers looking for work and their opportunity to make a better living."