Angola Arrests 13 Dissidents for Planning Protests in Continuing Government Crackdown on Opposition
Including Luaty Beirao, a rapper who's emerged as a leader of the youth opposition movement.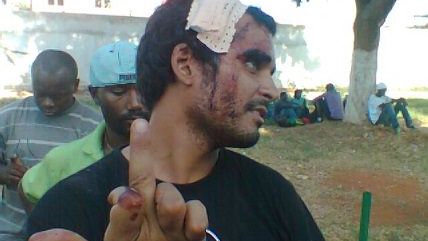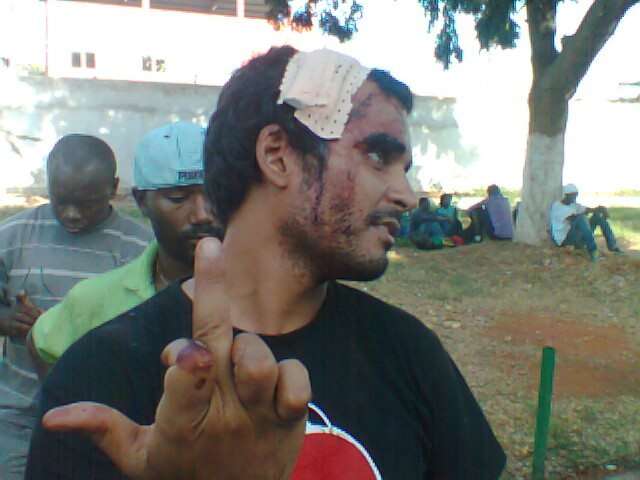 The interior ministry of the Southwest African country of Angola said police arrested 13 citizens "who were caught red-handed as they prepared to carry out acts aimed at disrupting public order and security in the country," as Agence France Press reports.
According to the Angolan Revolutionary Movement, a youth group that's organized a number of protests since 2011 and been the systemic target of police brutality during that time, police raided a meeting in Luanda, the capital city, on Saturday, arresting up to 20 people. Among the arrested, AFP reports, was Luaty Beirao, a rapper who's emerged as a leader of the youth movement, and Manuel Alves, a man who was imprisoned for 3 months for printing t-shirts with messages opposing the president.
Protests in the Southwest African country that won its independence from Portugal 40 years ago revolve around the country's president, José Eduardo Dos Santos, who has been president for the last 35 years, including through 22 years of a 27 year civil war that started immediately after the country won its independence from Portugal. Dos Santos banned demonstrations in the center of Luanda in 2011, and has ratcheted up that ban since. Earlier this year, the president passed a new law requiring religious denominations to have at least 100,000 members in three of 18 regions, banning at least nine church groups in April in police/military actions that could have killed up to 1,000 civilians and ended with the arrest of the leader of one apocalyptic church that says the world will end at the end of the year and that its followers should disengage from politics.
While half the Angolan population lives on under $2 a day, the government has rebuilt a lucrative relationship with Portugal. Business Day Live in South Africa reports:
[Links in Portugal are tight] in Angola, where the elite maintain especially close ties with Lisbon.

For Portugal, Angola became a sure escape from the economic crisis, which gave the southern European country a dumping ground for goods, businesses and the unemployed.

But the relationship is a two-way street, with Angola's wealthy — especially President Jose Eduardo dos Santos's daughter, Isabel — investing millions in Portugal in what critics have dubbed a "reverse colonisation".

"What is the most dramatic consequence of Angola's massive investment in Portugal?" asked Marcolino Moco, a former Angolan prime minister.

"Turning a country listed among the most advanced democracies of Europe, into a subordinate of an African absolutist kingdom."
There may be reverse colonization going on, but there's also colonization. Dos Santos recently returned from China, where he got a commitment from the government for more support. Media reports indicated Dos Santos was seeking a two-year moratorium on loan repayments, but the Angolan government denied that, saying instead it had secured improved terms on the loans. China's president, Xi Jinping, said the country would help Angola "overcome [financial] difficulties" and the "reduction in government revenue" caused by a drop in oil prices for the second largest producer of oil in Africa.
For the third year in a row, Luanda was named the world's most expensive city, beating out New York and London, by the Mercer Annual Cost of Living Survey. The Dos Santos government regularly clears poor people out of the city in a "war against chaotic urbanization". A hotel room in Luanda can go for $400 and lunch can cost $75.