Plans Afoot to Remove Confederate Flag from South Carolina State Grounds (UPDATED)
Is there now the political will to ignore its defenders?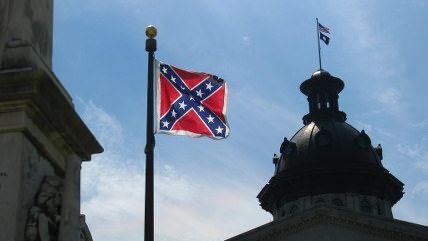 (Jason Lander / photo on flickr)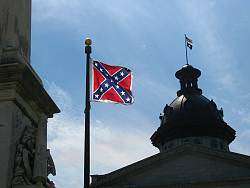 It appears as though the days are numbered for the Confederate flag waving on the State House grounds in Columbia, South Carolina. Fitsnews, an online South Carolina-based news outlet, is reporting, via unnamed sources, that not only will Republican Gov. Nikki Haley be calling for the flag's removal at a press conference this afternoon, but Republican leaders of the state's House of Representatives have already agreed:
Eager to beat formerly pro-flag governor Nikki Haley to the punch (the governor has reportedly decided to call on lawmakers to take down the flag), House leaders have quickly sketched out an agreement to move the flag from the north lawn of the State House to a "place of honor" in the Confederate Relic Room – a government-run museum located in Columbia, S.C.

Originally, lawmakers had hoped to accomplish this in January via a "special order" piece of legislation – but it's looking now as though they may not have that sort of time. In fact, sources tell FITS House leaders are currently exploring whether to use a procedural vote to take the flag down immediately … or at least within the next few days.

"We are in 'when, not if' territory now," a legislative leader told FITS.
If South Carolina Republicans take the lead on this, it will most certainly come as a relief to Republican presidential candidates, who will otherwise have to keep weighing in on this controversy and worrying about primary consequences, even though the president of the United States has no role or authority over what South Carolina does with the flag.
Matt Welch noted the history of the Confederate flag in South Carolina in the terms of presidential politics last week. I was actually a journalist in Columbia, South Carolina, back in 1999-2000, covering the presidential primaries down there and the rallies both in favor and against removing the flag (which was at that time flying atop the state capitol). Unfortunately I don't have access to my old reporting (this was before Google) so consider my memories anecdotal and perhaps a little suspect.
I can say that like many cultural conflicts, the battle was essentially driven by the loudest on each side, and it's really hard to evaluate in that sense what South Carolinian residents on the whole actually wanted, even after living there for a time. What was abundantly clear, though, is that those with the loudest of loudspeakers in South Carolinian conservative politics did not like being told by "outsiders" what to do. So when the National Association for the Advancement of Colored People (NAACP) sponsored rallies and calls for boycotts, I heard a lot of pushback in that vein and endured several lectures of what the flag truly meant, even though certainly the anti-flag rallies in Columbia were full of South Carolina residents, national NAACP involvement notwithstanding. And I can say that we can argue about which political movements bear the burden for the existence of slavery and segregation and the role of Southern Democrats back then, but in 1999, the supporters of keeping that flag flying were Republicans.
I can say that Columbia itself didn't appear that thrilled with the flag. Columbia's mayor at the time, Bob Coble, once tried to get it removed. Columbia isn't just the state capitol—it's a big college town with a sizeable youth population and a music and arts scene big enough to support an alternative weekly newspaper (which is where I was working). There were a lot of people there who were embarrassed by the flag, and no doubt that number has grown over time. A new national poll shows that one in five Americans support government buildings flying the Confederate flag. Two-thirds want it down.
This round of news coverage appears a lot less focused on giving soapboxes to flag defenders and more about whether the political will is there to move the flag off the State House grounds into a museum display instead. But we'll have to see what actually happens in the coming weeks.
Update: CNN says Sen. Lindsey Graham will be joining Haley's press conference to call for the flag's removal.
Update II: Haley did indeed call for the flag to come down at an afternoon press conference, saying, "Today we are here in a moment of unity to say it's time to move the flag from the capitol grounds." Read more here.