Libertarian Feminists Ask Facebook to #FreeTheNipple
Petition urges Facebook to stop "censoring artful or political expressions of female bodies."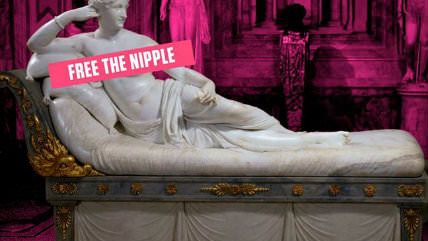 (Free the Nipple/Facebook)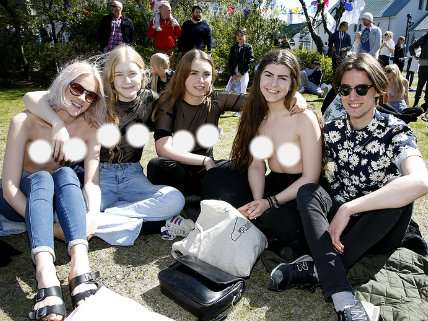 Non-sexual images of women's nipples shouldn't be considered a "community standards" violation by Facebook argue members of the Association of Libertarian Feminists (ALF).
Earlier this week the ALF Facebook page posted a link to an Iceland Monitor article about a #FreeTheNipple protest there. As I write this, the article is the most read article on the Monitor site, but you won't find folks sharing it on Facebook. The article contains pictures of women sitting in Iceland's Austurvöllur square without shirts on, part of an organized event by a campaign "to desexualize the female nipple." Facebook has been removing any links to the article and temporarily suspending the accounts of anyone who posts it, citing a violation of "Community Standards regarding nudity."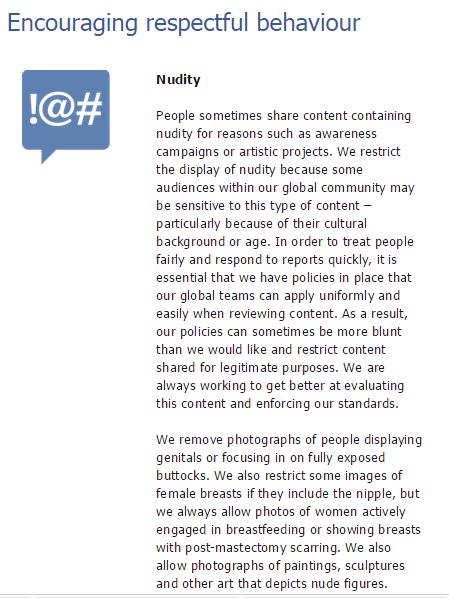 All nine ALF page admins (which includes me) had their accounts suspended, along with several individuals who shared the article. (On the same day, a friend of mine reported that her friends in the band Wet T-Shirt Contest had their Facebook page suspended, too, despite nary a nipple in sight; apparently the name alone was suggestive enough to trigger Facebook's content censors). ALF head Sharon Presley and member Julie Mastine have since launched a petition to "Tell Facebook to #FreeTheNipple and Revise Policies Regarding Nudity."
"Facebook is exercising a double standard, allowing photos of topless men but censoring artful or political expressions of female bodies," states the petition (which I had no part in creating). "Facebook can be a leader in changing cultural norms surrounding women's bodies by taking context into account and revising its policies and filters so that women's bodies—and speech about their bodies—are NOT censored."
As libertarians, Presley et al. understand that Facebook is a privately owned platform and can enact whatever content restrictions it chooses, but they're hoping to help convince the company to make a change. Until recently Facebook also banned breastfeeding photos, but revised its policy at the urging of activists.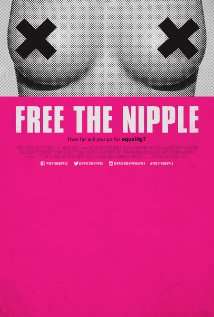 Facebook—which does allow a lot of violent and XXX-if-(barely)-clothed imagery—seems unlikely to "free the nipple" completely, considering the subjectivity required in discriminating between pornographic and other content featuring female nudity and its general "family friendly" aims. (Facebook's frequently-in-the-news content standards were back so this week when it announced that it wouldn't allow sexually oriented content to be sold in the Oculus Rift app store.) Even so, the network's most recent purge of nipple-related content is providing a good opportunity to expose activism around #NippleEquity. (Hashtag for literary effect only.) In Iceland, the issue has sparked a mini-movement, with coordinated Free the Nipple days, social media campaigns, etc. From The Reykjavík Grapevine today:
Last March, Twitter became dotted with Icelandic women's nipples as part of the international #FreeTheNipple movement. The Icelandic wave began with a post by 17-year-old Adda Þóreyjardóttir Smáradóttir, who was sick of the double standards women face when it comes to body image and what is considered appropriate to reveal. The movement received a lot of support, mostly at first by other teenage girls who wanted to stand up for Adda when she was harassed for her tweet.

Though she deleted the picture, the following #FreeTheNipple tweets and comments have had lasting effects on how Adda and other women view their own bodies. "Personally, I feel more free to do what I want, and I know that people of my generation and those around me agree with me on that," she said. "They're also less afraid of being judged. I think it's helped a lot of girls with their self-esteem, because we are made to think that breasts should be a certain shape and size."

Even Björt Ólafsdóttir, MP of the Bright Future Party, decided to join the movement, and posted her own nipple photo on Twitter, along with the message: "This is to feed children. Shove it up your patriarchy. #FreeTheNipple."
A 2014 documentary by American director Lina Esco (Free the Nipple) follows women fighting anti-topless laws in the U.S. and is credited with spreading the movement here, where it has attracted support from celebrities such as Miley Cyrus, Scout Willis, and Cara Delevingne. Below, Reason TV visits the 2012 "Go Topless Day" protest in Washington, D.C.