Male Teen Has Consensual Sex with Female Teen. He Gets 25 Years as Sex Offender, Banned from Internet.
Girl admits he did nothing wrong, has asked prosecutor to drop the case.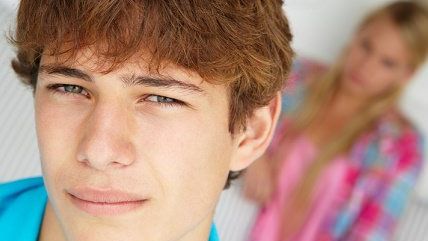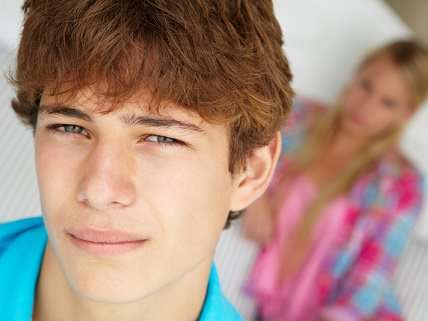 Computer science student Zach Anderson, 19, met a girl, 17, on the "Hot or Not?" app. He was from Elkhart, Indiana. She was 20 minutes over the border in Niles, Michigan. They hooked up. Once.
But it turned out the girl was really 14. She'd lied to Anderson and also in her profile. Now Zach sits in a Michigan jail, serving 90 days. When he gets out he will be on the Sex Offender Registry for 25 years.
Does anyone thinking treating him this way is necessary to keep kids safe? Anderson and his family certainly don't.
Neither does his supposed underage victim. The girl readily admitted that she lied about her age, and in this WSBT-TV interview her mother admitted that Anderson "didn't do anything my daughter didn't do." Everyone agrees the encounter was completely consensual. The only reason the police became involved at all is because the girl suffers from epilepsy, and when she didn't come home as quickly as expected her mom worried and called the cops for help.
In this excellent South Bend Tribune article, the mom told a reporter that she didn't just ask the judge for leniency, "we asked him to drop the case."
But court records show that Berrien County District Court Judge Dennis Wiley (who once jailed a woman for 10 days over Christmas because she cursed while paying a traffic ticket in the county clerk's office) paid none of the participants any mind. At sentencing he told Anderson, "You went online, to use a fisherman's expression, trolling for women to meet and have sex with. That seems to be part of our culture now: meet, hook up, have sex, sayonara. Totally inappropriate behavior. There is no excuse for this whatsoever."
Now, in addition to registering as a sex offender, Anderson will spend five years on probation, during which time he will not be allowed to live in a home where there is internet access or a smart phone. He will obviously have to change his major. And he is forbidden to talk to anyone under age 17, except his brothers.
I spoke to Anderson's dad, Les Anderson, yesterday. He said the family is about to try to withdraw the original plea deal Zach agreed to, because, he says, "The prosecutor violated the plea."
You see, in Michigan there is a leniency provision for first-time offenders under age 21. It keeps them off the registry. As part of the plea deal, the prosecutor had agreed not to take a position pro or con on whether to apply the provision to Zach. But when it came time for sentencing, the prosecutor reminded the judge that he had denied leniency in similar cases twice before.
That struck defense lawyer Scott Grabel as not exactly neutral. "He did us a favor," says Grabel, "because now we have a basis to withdraw the plea."
I chatted with Grabel yesterday, too. He says that if the case is tried anew, he would like to hold off for another six-to-nine months, because by then it's possible that the Michigan Supreme Court will have decided to allow defendants to use she lied about her age as a component of their defense.
Right now, 20 states allow this. But in the other 30, you can turn to your would-be hook-up and say, "'Look I want to see a passport or driver's license,' and I'd say that's pretty diligent of you," says Grabel. But if the I.D. is fake and she is actually underage, you can still be convicted of statutory rape.
Let's hope Michigan makes that change. In the meantime, Judge Wiley should realize that just because you met someone online does not mean you are a depraved fiend who deserves 25 years on the Sex Offender Registry.