Power + Secrecy = Suspicion
The 2015 Bilderberg summit begins today.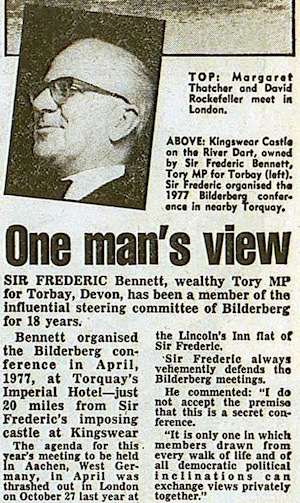 The annual Bilderberg meeting begins today in Telfs-Buchen, Austria. This year the summit's influential attendees range from David Petraeus to Henry Kissinger, from the CEO of Airbus to the secretary general of NATO. There are some press figures on the guest list too—Bloomberg's John Micklethwait, The National Post's Andrew Coyne, The Washington Post's Anne Applebaum, and a few others. But the journalists won't be writing about what they see, because the whole thing is off the record.
This combination of power and secrecy inevitably produces conspiracy theories, and the Bilderbergers have been dogged for decades by people convinced they're the secret parliament of the world. The meeting is more mundane than that, sitting somewhere on the spectrum between a G7 summit and a Davos forum. But if some of the things people claim about Bilderberg are crazy—a couple years ago, Michael Tracey interviewed a protester outside the meeting who was convinced it featured "Devil worship" and "pedophilia"—it's not at all kooky to recognize that powerful people are gathered there and that the things they're saying in private may be newsworthy. Bilderberg is not a hidden government, but it's certainly an elite institution, and it has been since it was founded in 1954.
So each year some journalists who aren't on the invite list try to cover the event. Since 2009, The Guardian has dispatched the reporter and comedy writer Charlie Skelton to the summit, or at least its outskirts; over the years he's gotten tailed by the cops, checked off who was entering a discussion of the situation in Ukraine, and, this week, had this little adventure:
The Guardian

At one point, in my umpteenth roadside check, I turned round to see an officer taking my picture on his phone. I trotted over and gave him a card with my email address. "Do you mind sending me that photo? Just so I can remember this moment." He mumbled something about not taking one, so I got my own camera out. "No photographs! You must not take pictures of police." No, no, I assured him. Not my intention at all. I handed him the camera. "Could you take one of me?" A bit confused, he obliged—and promptly took one of me and his colleague.

I wonder if he'll be charged under anti-terror legislation and thrown into jail for seven days for taking a photo of a policeman, because that's what journalists here have been told.
The sessions themselves may be secret, but the Bilderberg website does have a helpful list of this year's "key topics for discussion." It's mostly the sort of stuff you'd expect—Greece, Iran, terrorism, the U.S. elections—but it also includes "artificial intelligence," which is intriguing. Since I'm not allowed to attend, I'll just imagine that part will involve a test of wits between Henry Kissinger and a malevolent chatbot. The prize? The world.