Fox News Reports Man Shot by Baltimore Police, Then Walks It Back
Developing...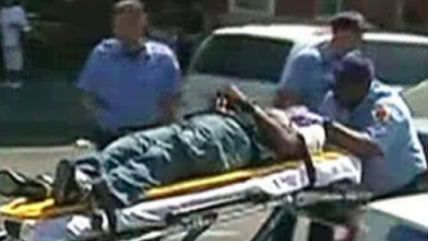 Fox News briefly reported that Baltimore police had shot a young black man multiple times near the place where last week riots broke out over the death of Freddie Gray. But the Baltimore Police, through its Twitter account, says the reports are mistaken: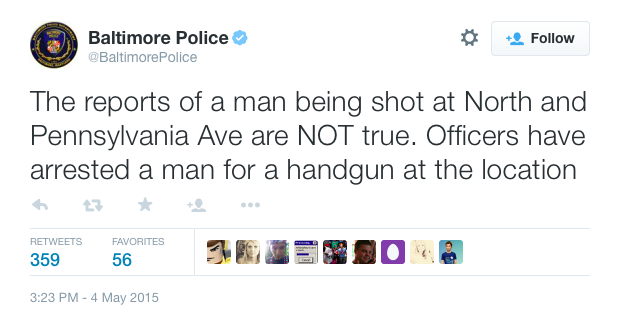 The network has since changed a headline on its website from "Man shot by Baltimore police" to "Conflicting reports on gun incident in Baltimore." The article initially said that "a Fox News crew witnessed a young black male running from police before he was shot." That sentence has been deleted from the updated article.
The story is still accompanied by an image of an unidentified man being rolled away on a stretcher from the scene.
The Baltimore Sun is reporting that, per the police, a suspect's gun went off during an arrest attempt, but the bullet didn't hit anyone. We'll update this post as we know more.
UPDATE 4:30 p.m.: Fox News' Shepard Smith has issued an on-air retraction. "Sounds like what happened is we screwed up," he said. "Our people on scene were wrong. Theirs was an error that was honest and straightforward and our duty as journalists is not to make mistakes, and when we make mistakes we are duty-bound to correct them immediately and as clearly as possible. So I'm now in correction mode and we apparently were wrong. … And on behalf of Mike Tobin and the rest of our crew there and he rest of us at Fox News, I am very sorry for the error and glad we were able to correct it quickly." Mediaite has his full remarks.
Shortly after the incident, Fox News correspondent Mike Tobin, who was with the news crew on the scene, had called into a live broadcast and given this report: "We saw a guy running from the cops here, right at the intersection of North and Pennsylvania…and as he was running away, the officer drew his weapon and fired and struck the individual who was running away. He was a young black male, and what we saw on the sidewalk as the crime scene unfolded there, there was a revolver lying on the ground. It looked like a six-shooter revolver with a long barrel. He was alive, they just took him off in the ambulance, but he did not look to be in good shape at all."