Freddie Gray's Neck Reportedly Broke in Van, Officer Who Drove Van Still Hasn't Given Statement to Authorities
Anonymous sources talk after police send their investigative findings to prosecutors.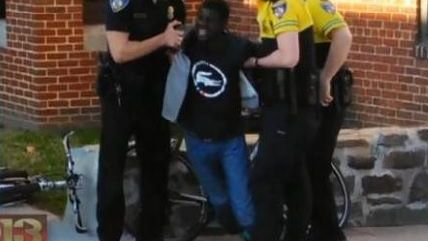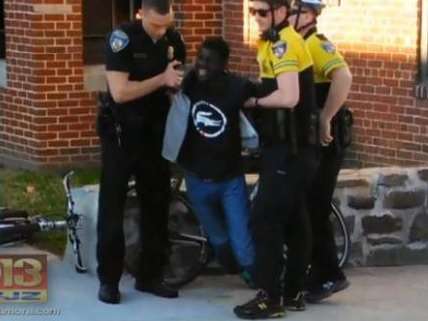 Today the Baltimore Police Department sent its findings about the death of Freddie Gray in police custody to the state's attorney, who says her office is also conducting its own internal probe. Authorities aren't releasing any information, but WJLA reports on details from anonymous sources:
Sources said the medical examiner found Gray's catastrophic injury was caused when he slammed into the back of the police transport van, apparently breaking his neck; a head injury he sustained matches a bolt in the back of the van.

Details surrounding exactly what caused Gray to slam into the back of the van was unclear. The officer driving the van has yet to give a statement to authorities. It's also unclear whether Gray's head injury was voluntary or was result of some other action.
Yesterday the Washington Post reported on a police document that included testimony from a prisoner who shared the van with Gray that he heard him banging his head against the wall repeatedly. WJLA investigative reporter Jayne Miller told MSNBC's Chris Hayes her reporting points to that prisoner being placed in the van after Gray was already unresponsive.
Absent any official explanation about Gray's death, one widely circulated suggestion is that he was taken on a nickel ride, where police take rough rides while transporting prisoners who are handcuffed but not secured to a seat. It can cause severe injuries. David Simon, who was a police reporter in Baltimore in the 80s and 90s, mentioned it in passing in a recent interview he gave the Marshall Project about Baltimore, saying that calling a cop an "asshole" could lead to "going hard into the wagon." And it was back then, Simon says, that Baltimore cops had a code about the limits of their brutality.
Prosecutors say they are not providing any information about their investigation or the police investigation so as not to give potential defendants an advantage. Prosecutors don't want defendants to be able to start preparing a defense early based on any initial information. It may not be unusual stance for prosecutors to take, but it is highly unusual that the prime suspect in what looks like a homicide could go weeks without giving a statement to authorities and avoid arrest. Yet the officer who drove the van, the only one of the officers who interacted with Gray who has not provided a statement, has just done that. Do prosecutors think he's not preparing a defense, whether or not they release any information?
That cop's status, however, is not about to prosecutors, or even the police department. The Maryland Law Enforcement Officers Bill of Rights guarantees a cop has 10 days to hire legal representation before having to give a statement to police. Earlier this year, Baltimore Mayor Stephanie Rawlings-Blake pushed for reforms to that law that would make it easier to discipline cops found guilty of misconduct. Police officers in Maryland can't be fired just because they were found guilty of something. The 10 day grace period was not a target of Rawlings-Blake's reform proposals. And while Rep. Elijah Cummings (D-Md.) told CNN Baltimore would be requesting a pattern and practice investigation of its police department, Rawligns-Blake, in office for nearly four years, had apparently never done that before.