Freddie Gray Protests Nationwide, No New Trial for Ross Ulbricht, Bernie Sanders Running for President: A.M. Links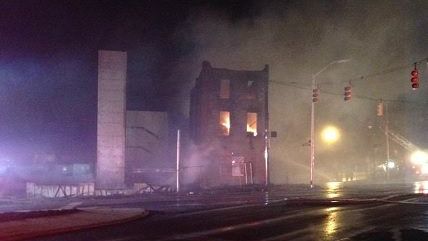 @justin_fenton/Twitter

Protests were held in New York, Boston, and elsewhere over the death of Freddie Gray in Baltimore, where police freed nearly 100 people held since Monday without charge after a series of habeas corpus petitions. Among the buildings destroyed Monday night was the bodega where Omar Little was shot on The Wire.

A judge denied a motion for a new trial by Ross Ulbricht, convicted of charges related to the operation of Silk Road.
The Clinton Foundation reportedly failed to release the names of 1,100 foreign donors as it promised to the Obama White House.
As expected, Sen. Bernie Sanders (I-Vt.) announced he would seek the Democratic nomination for president.
The Republican Party in Nevada may be changing its presidential primary process in an effort to make it more difficult for Sen. Rand Paul (R-Ky.) to win.
The new king of Saudi Arabia has broken with tradition and named his nephew, not a younger brother, as his successor.
Follow Reason on Twitter, and like us on Facebook. You can also get the top stories mailed to you—sign up here.