Best. Headline. Ever. (For Conservative & Liberal Fundraising Purposes.)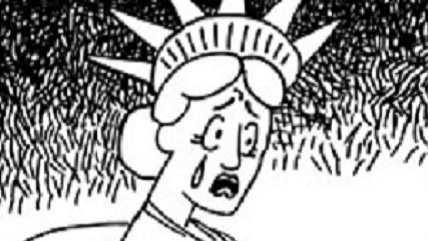 Courtesy of C.J. Ciaramella's Twitter feed comes just about the best headline ever, at least if you're trying to raise money for right-wing or left-wing causes, don't you think?
The story runs in the Washigton Times and goes something like this:
The ACLU is demanding government records detailing reproductive healthcare policies for immigrant children and teens in shelters operated by the United States Conference of Catholic Bishops (USCCB). The USCCB has been contracted by the federal government to care for the surge of unaccompanied minors crossing into the U.S.

The group claims that the USCCB has been denying reproductive care for immigrants based on its religious doctrines and that by doing so the organization is breaking the rules of its contract with the federal government to provide necessary healthcare for immigrants….

Almost 60,000 unaccompanied minors illegally crossed the U.S./Mexico borer last year. Nearly a third were young girls and up to 80 percent of those girls were victims of sexual assault. USCCB was awarded a $73 million overall contract and received $10 million in 2013 alone to care for those unaccompanied minors.

"We don't think that religious organizations should be awarded the contract if they are unable to do the work that is required," said Ms. Amiri. "Because this contract was to provide day to day care to these teens including medical care, they need to be able to deliver the full range of whats required under the contract. We wouldn't say its ok in any circumstance for a contractor to say 'I want the money' and then not do the work."

The USCCB said that it has been successfully caring for needy children for years, without providing contraception or abortions and will continue to do so.
The Times story quotes pro-life voices noting that the ACLU gets a boatload of federal money and has been caught overbilling the government and failing to report certain types of sexual abuse. I don't know if those charges are true (or whether a medical provider is legally bound to report crimes). Nor do I have any idea whether any of the unaccompanied minors have sought abortions or non-Church-approved forms of contraception. And finally, I have no idea if anything related to the Hobby Lobby case is relevant here (though I doubt it).
The one thing I do know is that C.J. Ciaramella was on the money when he tweeted:
This headline is like a culture war mad-lib: http://t.co/qEKbzHENux pic.twitter.com/iE7QeOtDU0

— CJ Ciaramella (@cjciaramella) April 24, 2015