Loretta Lynch Confirmed as Attorney General Nominee, Faux Civil Rights Groups Hail Lynch's Elevation
Lynch's track record includes secret prosecutions, asset forfeiture, and failing to prosecute civil rights abuses by local cops.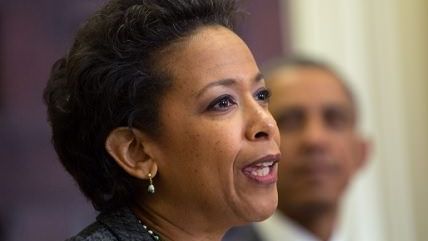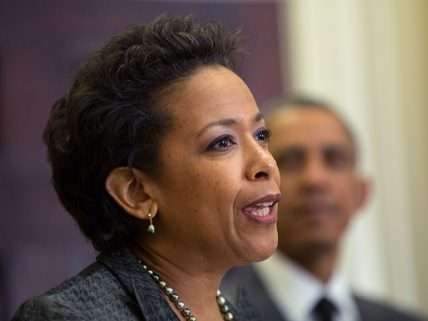 After months of delays, the Senate confirmed Loretta Lynch as the next attorney general by a vote of 56-43. Republicans had delayed the vote numerous times over unrelated issues. Jeb Bush, a likely Republican presidential candidate, urged the Senate to defer to President Obama's choice of Lynch as attorney general, arguing that presidents should be able to pick who they want. Sen. Rand Paul (R-Ky.), an announced Republican presidential candidate and one who's arguably engaged civil liberties issues more than most politicians in either party, opposed Lynch's nomination early on, citing her aggressive use of civil asset forfeiture and her refusal to take a stand on the legality of executive drone strikes. Paul also took issue with Lynch's support of President Obama's various executive immigration directives.
But if you listened to groups like "The Leadership Conference," which calls itself a "civil and human rights coalition," Lynch's confirmation is a victory for civil liberties by mere virtue of her race, gender, and party affiliation. An excerpt from their press release:
"After more than 165 days and countless meetings, marches, prayer vigils, press conferences, and hunger strikes, we're pleased that the Senate finally did the right thing by confirming Loretta Lynch to be our next Attorney General.

Attorney General Lynch made history today on two fronts: as the first African-American woman to be our nation's top law enforcement official and as the first Attorney General nominee in history required to overcome a cloture vote to be confirmed. Lynch faced this unprecedented obstruction not because of her fitness for office, but because her nomination was inappropriately used in a proxy war against the President and his policies.

While we applaud those senators who chose to judge Lynch on her merits to be Attorney General, congressional Republicans have a long way to go in proving that they can provide the necessary leadership to govern.

Lynch's confirmation has also secured the continued legacy of fair and responsible leadership at the Justice Department by Eric Holder. Her indisputable qualifications, character, integrity, and tenacity in the face of obstruction assure us she will serve the nation with distinction.
If you're having trouble figuring out what this partisan fellatio has to do with civil and human rights, you're not the only one. Paul is a flawed candidate, as all presidential candidates are. But in his four years in the Senate, he has exhibited a commitment to the issue of criminal justice reform, partnering with Democrats and Republicans to push for the kinds of policy changes, like sentencing reform and limits on forfeiture, that would have positive effects on the actually existing civil rights of Americans.
Lynch's record is far muddier. There's no evidence she pulled back on drug prosecutions in her district. She's a big supporter of asset forfeiture. She's engaged in "secret prosecutions" on at least 58 occasions since 2010. Her office has yet to act one way or the other on the case of Ramarley Graham, who was shot and killed by a New York City police officer in 2012 after being chased over a small amount of marijuana. So Lynch doesn't even seem to hit Eric Holder levels of respect for civil rights. Holder's had his problems but under him the Department of Justice's done a relatively good job investigating local police departments for civil rights abuses, and he's finally started to make small steps toward the kind of criminal justice reforms that could have real effects on the system.
Loretta Lynch? She's a black woman and a Democrat, and that seems to be enough civil rights bona fides for some. But Lynch isn't the first black woman whose vote was delayed by partisan opposition in the Senate. Democrats did the same to Bush judicial appointee Janice Rogers Brown, the same judge who this week launched a blistering attack on the pro-police orthodoxy embedded into case law. She was opposed by Democrats, for more than two years.