Man Suffers Fatal Spine Injury in Police Custody in Baltimore: Cops Have No Video, Don't Know What Happened, Not Sure Why They Pursued Him in the First Place
Was charged with possession of a switchblade. Six cops suspended with pay after his death.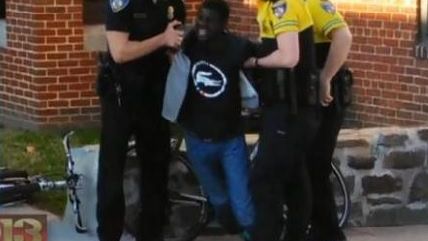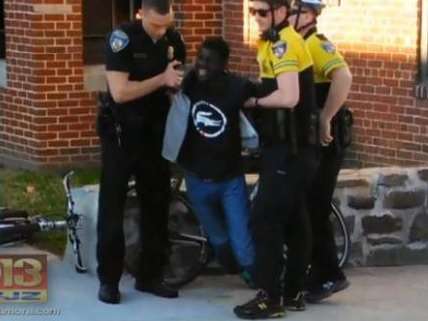 Authorities in Baltimore are calling for calm after a man died from a spine injury while in police custody and cops have no answers. Freddie Gray was arrested last Sunday, April 12, suffered an unspecified "medical emergency" that caused a fatal spine injury but no other physical injury while in police custody the same day.
The police department suspended, with pay, six of the officers involved in the interaction with Gray, but can't say how Gray's spine was injured, or even why police interacted with him in the first place. Police Commissioner Anthony Betts said that he only knew cops made eye contact with Gray and another man, and chased them when the two started running. Gray was charged with possession of a switchblade.
Al-Jazeera America reports:
Deputy Police Commissioner Jerry Rodriguez said officers had arrested Gray without using force after he fled when they approached him. They put him into a police van to take him to a station, he told a news conference.

"I know that when Mr. Gray was placed inside that van, he was able to talk, upset, and when Mr. Gray was taken out of that van, he could not talk and he could not breathe," Rodriguez said.

Police Commissioner Anthony Batts said a wide-ranging and transparent department investigation would be concluded by the end of next week and the results forwarded to state prosecutors. After that, the probe will undergo an independent review, he said.

"We will examine every piece of evidence, and we will go wherever the evidence takes us," Batts said.
Baltimore's mayor, Stephanie Rawlings-Blake, said she was "angry that we are here again," appearing to blame the incident for renewed distrust of police in the community. But she need go no further than a council meeting at city hall to find out that distrust of police has been quite visible even before Gray's death.
Just in December, a lawsuit by a former police officer alleged retaliation for whistleblowing about police brutality that included a dead rat on his windshield. The city is unlikely to admit wrongdoing in the lawsuit and is fighting it in court. Any settlement the city may come too will almost certainly avoid placing any responsibility on the police department for the actions alleged in the lawsuit—standard operating procedure for misconduct suits. Rawlings-Blake and the rest of Baltimore's political class may have talking the talk down pat on police brutality—but only actual policy reforms can stem the police violence.