Reed College Student Who Told Me to Write the N-Word Was Arrested for Harassing a Girls' Rugby Team
Another strange wrinkle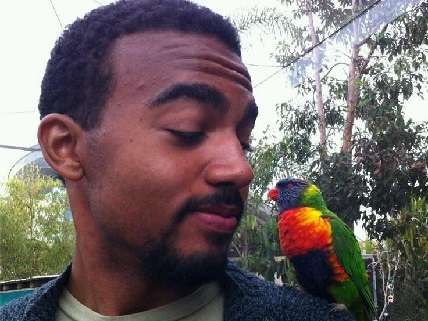 Remember Jeremiah True, the Reed College student who demanded that I use the n-word before he would consent to an interview? Well, he was arrested for harassment and sexual abuse.
BuzzFeed reports that True interrupted a high school girls' rugby team practice last Thursday and the police had to intervene:
The Multnomah County Sheriff's Office confirmed on Friday that True was in jail and awaiting his arraignment later that afternoon. His booking information, in which his name is spelled incorrectly, is online.

According to an employee at Rugby Oregon, a youth rugby organization based in Portland, True was arrested for disrupting a high school girls' rugby practice. He was restrained by a coach who called the police, the employee said.
The sheriff's office lists sex abuse, harassment, and disorderly conduct as the charges.
True did not respond to requests for comment. His cell phone is now set to inform callers that he is "not accepting calls at this time."
I last spoke to True on March 24, when he consented to an interview despite my unwillingness to meet his odd demand—which he claimed had been an attempt to gauge my commitment to the real story. According to True, the college is punishing him for merely expressing non-PC views on a variety of topics, including sexual assault. But his antics outside of the classroom—which include disrupting campus events and walking up to random students and calling them "nigger"—suggest to me that this was probably not just a simple case of censorship.
What that means for the validity of this equally strange sexual harassment charge is anyone's guess.