The Destruction of Penn Station Led to the Landmarks Preservation Movement. But Was the Old Structure Worth Saving After All?
On the 50th anniversary of the Landmarks Preservation Act, a re-evaluation of the mythic demise of an iconic train station.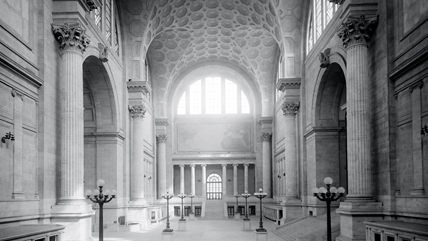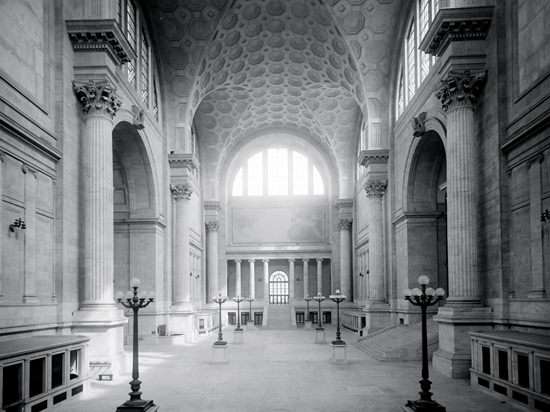 In all the hoopla surrounding the 50th anniversary of New York's Landmarks Preservation Act—Mayor Robert F. Wagner signed the legislation exactly a half century ago today—you'll see plenty of photos of the old Penn Station taken around the time of its 1910 opening. These images depict the grand, light-filled main hall modeled after the Baths of Caracalla and the spectacular iron-and-glass train shed in its pristine state. Another series of photos shows the station being taken apart in the 1960s. In this set of images, the station looks like an ancient Roman palace; it's as if the cranes pulling it apart are destroying the very bedrock of Western civilization.
"Seven-year-olds gasp…[when] we show them the old Penn Station," Tara Kelly, the executive director of Friends of the Upper East Side Historic Districts, told the New York Times at an event last week celebrating the law's half-centennial.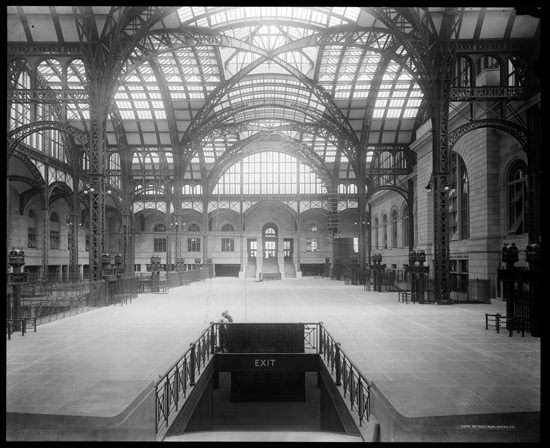 Penn Station's destruction in the mid-1960s was a call to arms for the landmarks movement, leading directly to the passage of the 1965 law. Preservationists trot out these photos capable of leaving second graders breathless to remind us of why we need a government-appointed commission to save our historic buildings from cold market logic.
But this narrative is as one-sided as those photos. Profit-driven developers left to their own devices value wonderful old buildings as much as the general public they serve, but the old Penn Station was a deeply flawed structure. It emphasized form over function, so it was never a particularly good train station. And New Yorkers didn't care for it very much—when it was still around, at least. It's easy to revere the dead.
What you won't see are pictures of Penn Station as it looked in its final years, when the entire building was smothered in inches of grime and its cracked windows were patched over with sheets of metal. There were "color ads…like blasphemous utterances in the marbled halls…automobiles revolved on turntables; [and] shops and stands…added in jazzy cacophony," The New York Times architecture critic Ada Louise Huxtable recalled in a 1966 article.
So what? Grand Central Terminal was once falling apart and then it was lovingly restored in 2007. Couldn't Penn Station also have been returned to its original grandeur? Perhaps, but there would have been no way to defray the cost of its upkeep because unlike its east side counterpart, Penn Station wasn't built to neatly integrate retail space into its corridors. And its high glass windows made it unusually expensive to clean and maintain.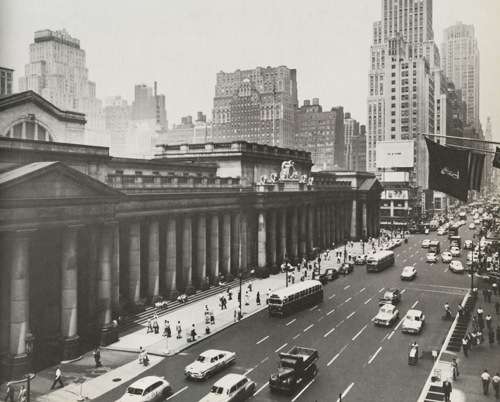 The Pennsylvania Railroad (PRR) company, which built and operated the station, declared bankruptcy in 1968, so if the building had survived, maintaining it would have likely fallen either to the city or the Metropolitan Transit Authority (MTA). In the early 1970s, the MTA struggled to finance basic maintenance costs and upgrades. (Remember what the MTA-run subways looked like in the 70s and 80s?) By the time of PRR's bankruptcy, New York City's government was on the precipice of its own fiscal crisis. Penn Station could have continued deteriorating for another forty years, right up through the city's economic resurgence in the late-1990s.
Charles McKim's grand design was impractical for other reasons as well. The Times' Huxtable, who wrote that the station's passing "confirms the demise of an age of opulent elegance," also acknowledged that "[f]unctionally, [it] was considerably less noble." She wrote: "The complexity and ambiguity of its train levels and entrances and exits were a constant frustration…a better expression of ancient Rome than of 20th-century America."
It's a "hard truth" that "New Yorkers had never come to really love Penn Station," wrote Jill Jonnes in her 2007 history Conquering Gotham, A Gilded Age Epic: The Construction of Penn Station and Its Tunnels. Jonnes tells the story of how a group of architects set up a picket line in 1962 to oppose the station's impending demise, but found it hard to get the general public interested in their cause. "There was not consciousness among most New Yorkers of the value of old architecture," recalled preservationist Elliot Willensky, who stood on that picket line.
I don't buy Willensky's explanation. A year before the architects held their poorly attended protest, Jane Jacobs had published her bestselling and consciousness-raising The Death and Life of Great American Cities, which made a case for the tremendous value of old buildings (albeit mainly on functional grounds).
The same year nobody was getting riled up over Penn Station's impending destruction, Jacobs was rallying a neighborhood movement that would eventually halt plans to build the Lower Manhattan Expressway, a Robert Moses-project that would have plowed straight through the historic West Village. Maybe there was no similar public groundswell to save Penn Station because most people didn't care about that particular old building. (Jacobs herself did picket to save the station.)
Jonnes cites a 1939 article in Fortune that offers some theories about why New Yorkers never took to the building: "Pennsylvania Station affronts the very architectural rationale on which New York is founded by daring to be horizontal rather than a vertical giant….To sensitive New Yorkers the station's body is on Seventh Avenue, but its soul is in Philadelphia."
The underground Penn Station that replaced the old structure is a planning nightmare that's outright disliked by the general public, but that's an argument for replacing it with something new, not saving the flawed structure that preceded it. New York became the world's preeminent city by letting its developers sometimes violently tear down old buildings. Progress isn't free, and neither is preservation.
That's the argument I made in this recent Reason TV video to mark the 50th anniversary of the landmarks act: