Dems on Rand Paul: He's Bizarre. Also, He's Just Like All the Others.
Too mainstream or too extreme?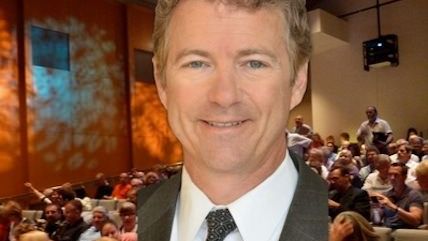 As Rand Paul formally enters the presidential race, MSNBC's Benjy Sarlin observes a contradiction—or at least a tension—in the Democrats' early attacks on the candidate:
The Rand Paul Store

Is Rand Paul a "bizarre and even dangerous" candidate filled with kooky ideas? Or is he "the same as any other Republican presidential hopeful" while only masquerading as the fresh new thing?

Democrats deployed both of these attacks on Tuesday. The former quote came from opposition research group American Bridge, the latter from a statement by Democratic Party chair Debbie Wasserman Schultz. Taken together, they point to a broader question of how to tear down Paul given his unique role in the GOP field, where his libertarian views on foreign policy and civil liberties often clash with other party hopefuls.

The "wacky" side and the "same old" sides aren't necessarily contradictory. Both the DNC and Bridge prominently feature Paul's record on social issues, for example, which they hope can counter his potential appeal with young voters. But there are challenges to hitting both messages at once: Too much time portraying Paul as an oddball could reinforce his message that he's an iconoclast; too much time portraying him as more of the same could undermine attacks on his libertarian views as uniquely extreme.
With foreign policy, Sarlin notes, another problem kicks in. Despite his recent compromises and flip-flops, from his support for a war with ISIS to his call for a hike in military spending, Paul is still the least interventionist major candidate (*) on the field—not just less hawkish than the other Republican contenders, but less hawkish than Hillary Clinton. And so the Dems have been hammering Paul as a peacenik, an approach that could pose problems for their likely nominee:
Hillary Clinton may be the overwhelming frontrunner to win her nomination, but the biggest weakness with her base is her relatively hawkish record. Going after Paul too hard could strike progressive critics as jingoist.

"She lost the Democratic presidential nomination in 2008 because she voted for the Iraq War and steadfastly refused to apologize for that vote," Republican strategist Liz Mair told msnbc. "There are a lot of voters out there who dissent from these foreign policy and civil liberties views, many in her own party, and to them, she's the wackadoodle."
Sarlin's story is about the professional political operatives, but they aren't the only ones unsure which line of attack is best. This week Salon's Joan Walsh published a piece in the Paul-is-just-a-standard-Republican genre, headlined "Stop calling this man a 'libertarian.'" Salon, you may recall, habitually illustrates its articles about libertarianism with photographs of Rand Paul, even when he isn't actually mentioned in the story. (**)
(* You can make a decent case that Paul is now less dovish than Bernie Sanders or Jim Webb. But I don't think they qualify as major candidates. Sorry, guys!)
(** OK, so that last one does include a passing reference to "the Paul family." You can judge for yourself whether that justifies the big opening photo.)