Wall Street Boost From Lousy Job Numbers, Jeb Bush is Apparently Not Hispanic, Rand Paul Previews Campaign Themes: P.M. Links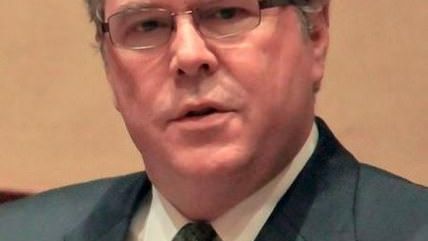 The World Affairs Council

At least Wall Street got a boost out of those lousy job figures. Stocks rose on the expectation that the Fed will keep interest rates low.

He may play a "Hispanic" on his old voter registration form, but Jeb Bush concedes he's not so much one in real life. Maybe he and Elizabeth Warren should get together some time.
A day before his official announcement of a presidential campaign, Sen. Rand Paul (R-Ky.) previewed themes—and some differences with other Republicans—in a 30-second video.
Gary Hart (you remember him?) warns that American politics are turning dynastic. Hmmm. That sounds dangerously like lèse-majesté.
Kenya launched airstrikes against Islamist positions in response to a bloody terror attack at a university.
Traditionally minded Indian tribes are digging in against gay marriage. Progressives may have to send in the cavalry.
Saudi Arabia's government signed off on the tentative nuclear deal with Iran, emphasizing that it hoped the agreement would eventually rid the whole region of weapons of mass destruction. Well, that and a buck will get you…
That bogus University of Virginia rape story that Rolling Stone ran is getting the magazine sued by the frat smeared in the piece.
Follow us on Facebook and Twitter, and don't forget to sign up for Reason's daily updates for more content.