Albuquerque Cop Fired For Being Insubordinate, Untruthful After Fatal Shooting Also Had Lapel Camera Off During 2013 Police Brutality Incident
His attorney says it wasn't fair to fire him to set 'example' about not turning on body cameras.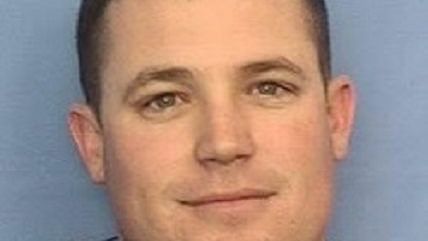 Last December Jeremy Dear was fired for "insubordination" and "untruthfulness" after failing to have his lapel cam turned on when he fatally shot 19-year-old Mary Hawkes, a suspected truck thief. Dear is still trying to get his job back, but now he's the subject of a new lawsuit over an incident of alleged police brutality in 2013. Dear says he was trying to break up a fight but the man he arrested, Dennis Shoemaker, says he was assaulted by the cop, not the other way around.
Action 7, the ABC affiliate in Albuquerque, reports:
t's an incident that's detailed in Dear's personnel file, which Action 7 News first obtained last year.

According to Dear's own police report, a fight broke out in front of the Bubble Lounge. Dear says he and another officer ran over. He says he yelled "Albuquerque police" several times, but the fight continued. Dear says he grabbed Shoemaker, who then started throwing punches at him. He says he held Shoemaker by the neck and punched him in the face several times before finally making the arrest.

Shoemaker sees it differently. In the lawsuit, he claims Dear never identified himself. Shoemaker says he did not lay a hand on Dear, nor did he resist arrest.

Problem is, there's no way to see what really happened because Dear did not come back with footage from his lapel camera.
Dear's attorney is arguing it wasn't fair to fire Dear in order to "set an example" about failing to turn on body cameras. Perhaps Dear should have been fired the first time he failed to turn on his body camera and proceeded to be accused of civil rights violations, in a kind of zero tolerance policy for cops?