The Democrats Have a New Warren/De Blasio, and He's Awful (UPDATED)
Rahm Emanuel challenger Chuy Garcia is setting progressive hearts aflutter, largely because his economic ideas are terrible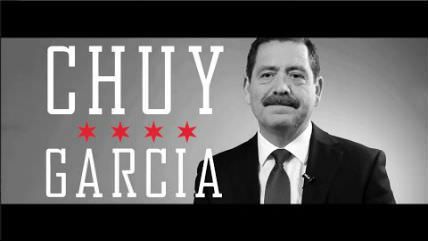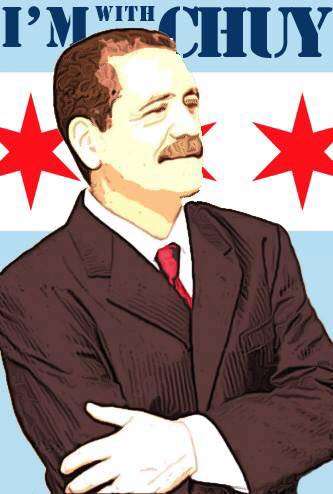 Progressives from coast to coast are getting all giddy about the unlikely runoff-election challenge to incumbent Chicago Mayor Rahm Emanuel by Cook County Commissioner Jesús "Chuy" Garcia. NPR calls it "a race that's signaling a deeper, growing divide between liberal and more moderate Democrats," noting:
Several national progressive groups, including Democracy for America, MoveOn.org and the American Federation of Teachers, have banded together to take the fight to Emanuel in what they see as a fight between the "Elizabeth Warren Wing" and the "Wall Street Wing" of the Democratic Party.
Howard Dean is all in for Chuy. Salon and In These Times are wiggling their fingers. The Nation sent out an email advertisement paid for by the Garcia campaign, featuring a sales pitch from Nation contributor and "Chuy Supporter" Rick Perlstein. (Sample, from the noted historian of the American right: "Let's tell Rahm Emanuel that his agenda of privatization, austerity, and authoritarian governance embodies everything that is awful in Democratic Party politics now and has to go. We have a genuine chance to shake up the Democratic Party before the 2016 election. Give $5 or $15.")
If Garcia's campaign does indeed symbolize one side of a Democratic civil war, then the party's historic nationwide drubbing in November 2014 could be more precursor than midterm outlier. That's because Garcia's populist brand of public-sector-union economics does not travel well outside of the inner sanctums of decaying blue cities.
And make no mistake—Chicago right now is an absolute basket case. The city's public sector pensions are underfunded by a mind-numbing $20 billion, Moody's downgraded Chicago's debt last month to two notches above junk, and the 2016 budget must include a $550 million, pig-in-a-python pension payment. There is no way to bridge that gap without cutting either current spending or pension promises to current public-sector employees.
Garcia has ruled out both.* (See clarification below.)
On the state level, he proposes reversing each proposed spending/program cut by new Gov. Bruce Rauner, and replacing them with revenue increases. On the local level, he has been remarkably vague, saying little beyond that every option should be "on the table." Here's how he explained his approach to The New York Times:
Asked where he would look for that money in the budget, Mr. Garcia said he would offer more details after the election. "I will rely on the recommendations made by experts in the field, shortly after I am elected mayor," he said. "Then we will engage in conversations with all stakeholders. Then decisions will be made."
When asked by a semi-exasperated Salon interviewer for a second time about just what, exactly, he would do about the budget crisis, Garcia replied:
We're spending $100 million on [police] overtime at present. Because we're understaffed in the Chicago Police Department, we begin by taking a portion of that overtime to hire additional police officers to begin getting us to the 1,000 additional police officers that we need on streets.
That's right—to solve the public-sector spending/obligation crisis, what we really need to do is hire more cops. And please, don't get him started about teachers.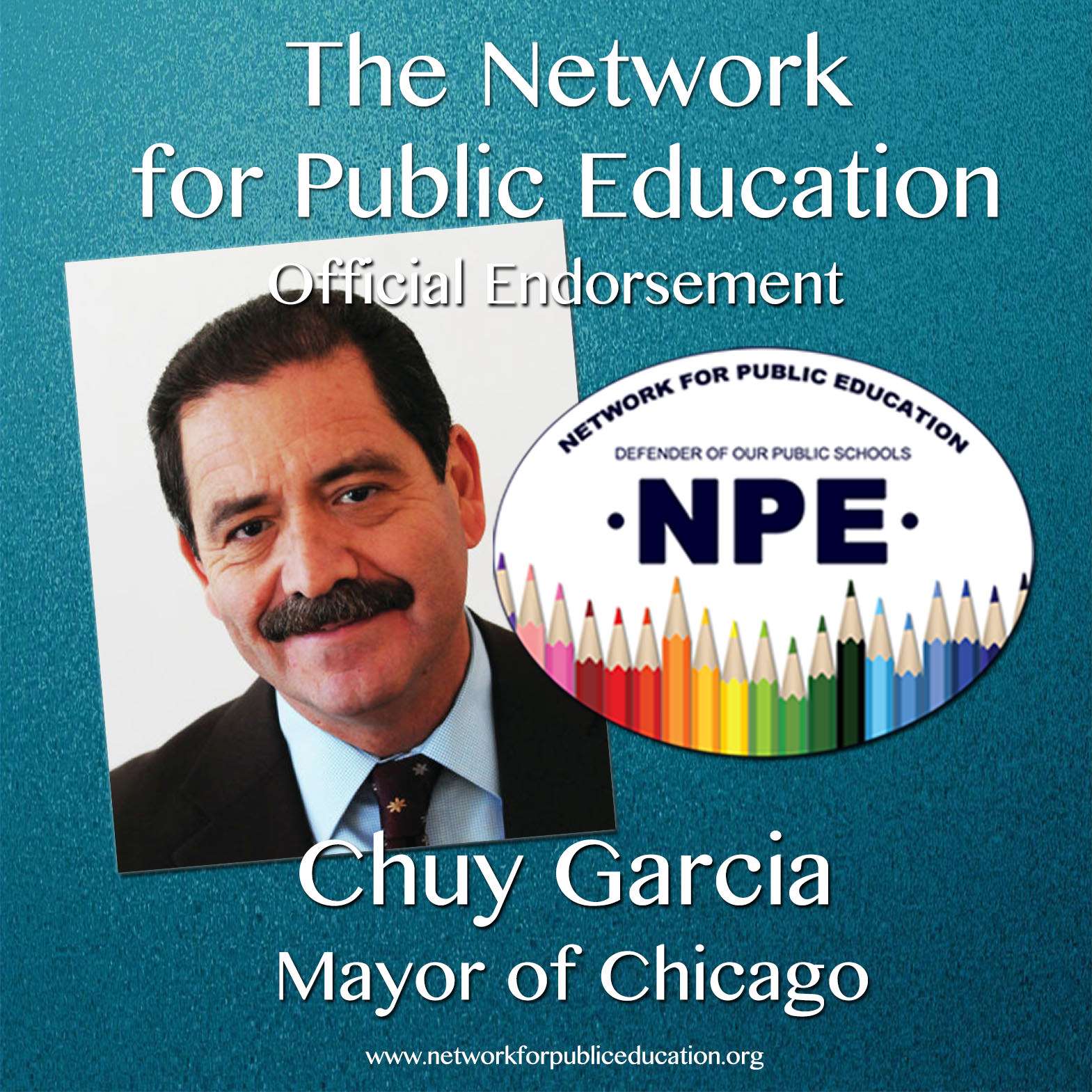 Like Bill de Blasio in New York, Chuy is running explicitly against educational choice. Which is hardly surprising, considering that he was the hand-picked candidate of Chicago Teachers Union President and progressive superstar Karen Lewis, who would have run herself if it weren't for a brain tumor. His first campaign ad is a full-throated attack against charter schools:
In the commercial, Garcia stands in front of the now-shuttered Marconi Elementary Community Academy in West Garfield Park and accuses Emanuel of being out for big corporate interests instead of children.

"This used to be a school until the mayor shut it down and 49 schools just like it," Garcia says in the ad. "He took money from these schools and gave it to elite private schools founded by his big campaign contributors." […]

"I will stop privatizing our public schools[."]
As both Emanuel and the Chicago Tribune pointed out, by "private" Garcia actually means public, but operated by someone other than the Chicago Teachers Union. Emanuel has opened 31 charter schools while closing those 49 underperforming traditional schools; to Chuy and his supporters, that's untenable. "I will put an end to that," he told Democracy Now.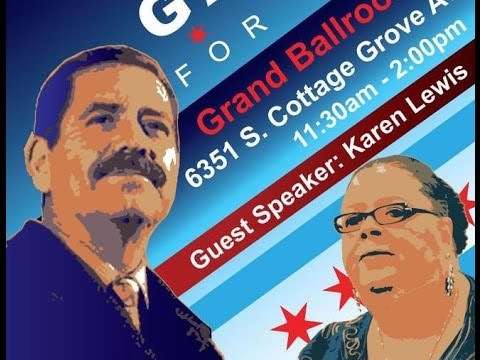 Garcia's sponsor Karen Lewis is the most influential backer of one of the craziest local-politics ideas I've ever heard: imposing a financial transaction tax (also known as the "LaSalle Street tax," or simply "Robin Hood tax") on every trade at the Chicago Mercantile Exchange and the Chicago Board Options Exchange. Lewis maintains that such a tax—which is currently prohibited by law—could raise $12 billion for the state, of which maybe $2 billion could then be sloshed into Chicago's public-sector pension shortfall.
Why is this a crazy local-politics idea? Because local. Imagine Thousand Oaks, California, imposing a targeted tax on biotech companies, or Detroit levying an extra fee on automakers. It's like taping a "please leave the city" sign on the front door. Lewis's response to this objection speaks volumes about contemporary progressive politics:
This is an opportunity to actually make heroes out of these people. Instead of everybody being angry at them about their money and their greed and all these other things. This is an opportunity for them to say, "You know what, we're part of the city. We love this city. We'd like to see the city work. We'd like to be a part of the process and this [tax] isn't going to be enough to make us want to go."

Where does Chuy stand on the transaction tax, a proposal that has many of his supporters salivating? In December, he said it was "on the table." By January he had come out against, even while continuing to stress that he'd wait until after the election to figure out just what to do about the budget crisis. Meanwhile, when unveiling his vague economic blueprint earlier this month, Garcia sat at a table next to the single most influential Robin-Hood-tax advocate in the economics profession: Dean Baker.
Yet even Dean Baker won't go as far as Karen Lewis and a whole swath of Chicago's political class when it comes to the LaSalle Street tax, according to the Chicago Sun-Times:
[Baker] thinks a $1 to $2 Chicago-only tax is a mistake.

"I couldn't envision that you could do that without massive flight from the exchanges," he told us. A tax that generated as much as $100 million [for the entire state, not just Chicago] is "probably a safe number," he said. "At $10 billion, they'd be gone."
When the Elizabeth Warren/Bill De Blasio/Zephyr Teachout wing of the Democratic Party grassroots is to the left of Dean Baker on Robin Hood taxes, it's a good time to take stock of just how far the party has drifted away from the Bill Clinton/New Democrat 1990s.
So is there anything to like about Chuy Garcia from a libertarian perspective? Well, he wants to get rid of red-light cameras, he's open to marijuana legalization, and he is giving Mayor Emanuel a righteous thrashing about his many corporate welfare boondoggles.
But if Chuy is as much an avatar of the modern progressive left that Rick Perlstein and Co. so desperately want him to be, I fear for the long-term economic health of deep-blue cities and states.
* This wording is too strong. The more accurate statement would be "Garcia has declined to publicly contemplate the specifics of either." Here's a relevant exchange with Windy City Media Group:
WCT: Are you able to speak about any kinds of service cuts at this time?

Jesus "Chuy" Garcia: Not at this time.
And one in The New York Times:
Garcia said he opposed cutting benefits for city workers, whether retired or currently working, without negotiating with them first.

"I do not support cutting benefits for current city employees until we have a dialogue," he said.