Can Rand Paul Ever Be Sufficiently Pro-Israel?
Attacking Paul's insufficiently enthusiastic applause for Netanyahu is symbolic of a continuing problem he has with elements of the American Right.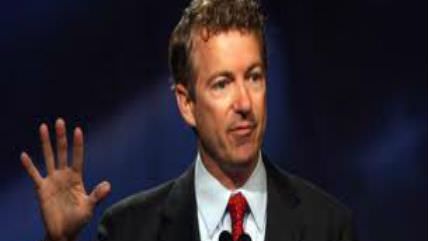 Sen. Rand Paul (R-Ky.), who raised eyebrows early in his Senate career by suggesting that cutting all foreign aid could include aid to Israel, has been trying very hard to repair his bonafides as a Friend of Israel.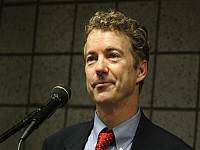 He traveled there and said settlements are none of his/our business, he meets with AIPAC, he says an attack on Israel is an attack on the U.S., he tries to make it sort-of clear that he does not believe in containing a nuclear Iran, but nor does he necessarily believe in war with Iran, but mostly seems to believe in the positive foreign policy wisdom of not settling that issue beforehand.
He issued a press release today under the headline "Sen. Rand Paul Stands with Israeli Prime Minister Netanyahu" reading in its entirety:
"Israel is and has always been America's friend and ally. I was pleased to hear Prime Minister Netanyahu's speech to Congress today, and join him in calling for peace and standing together for our mutual interests. It is important to work together to prevent a nuclear Iran, and the spread of Radical Islam," said Sen. Paul.
He also sent out another press release later today trying to shore up his rep as someone willing to lean on Iran:
Sen. Rand Paul today signed on as a cosponsor to The Iran Nuclear Agreement Review Act of 2015, introduced last week by Sen. Bob Corker (R-Tenn.). This bipartisan legislation would mandate that the Obama Administration submit the text of any agreement to Congress, in addition to prohibiting the President from suspending Congressional sanctions for a period of 60 days…..

"As I have said all along, I believe it is in everyone's best interest to find a peaceful way to prevent Iran from acquiring nuclear weapons. Contingent fully upon the approval from Congress, any deal reached must be strong, verifiable, and ultimately, have real consequences if Iran does not comply. This act will give the administration an incentive to negotiate from a position of strength," Sen. Paul said.
Yet in the recent past he's also been not reflexively pro-more-sanctions on Iran. He knows that Sheldon Adelson, linchpin of Israel-support among the big money American right, is out to get him. And today, as noted at National Review, lots of people are mad at him for not clapping with enough enthusiasm after Netanyahu's "let's you and him fight" speech to Congress today re: Iran.
It's symbolic of a problem that will doubtless hound Rand Paul throughout his run for the GOP presidential nomination: it will be impossible for him to seem sufficiently "pro-Israel" for those funders, pundits, or voters for whom being completely pro-Israel (in the sense of making the foreign policy decisions that the Israeli government wants us to make) is the most important consideration. (How many such voters there are remains to be seen.) Yet he doesn't seem apt to stop trying anytime soon.