Jeb Bush and the Gospel of Economic Growth
Jeb Bush defends himself on Common Core and immigration while talking up economic expansion.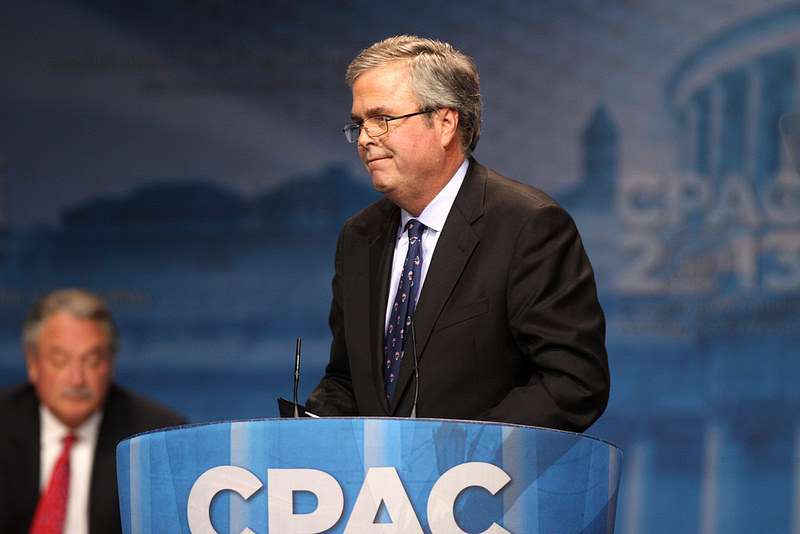 Jeb Bush isn't the most popular man at the Conservative Political Action Conference (CPAC). When the former Florida governor stepped onto the main stage at the annual conservative confab this afternoon, he drew a loud reaction from the crowd—and not all of it was cheers. Bush, who has said that he is actively considering a run for president, is the biggest figure in the GOP fundraising game right now. But amongst the conservative activists at CPAC, he faces significant skepticism, and even outright hostility.
Bush has committed three big sins against conservatism, two by choice, one by birth. First, he's the brother of President George W. Bush, whose big-spending presidency is not widely celebrated by the CPAC crowd. Second, he supports Common Core education reforms. Finally, he favors large-scale immigration reform—including creating a way for the roughly 11 million undocumented immigrants currently in the country to achieve legal status.
Conservatives can forgive the first easily enough; after all, his last name isn't really his fault. But the second two are more of a challenge.
Yet in a high-energy, high-stakes question and answer session this afternoon with Fox News host Sean Hannity, Bush forcefully defended his stances on education and immigration, while making the case that Republicans should be focused first and foremost on economic growth.
Hannity's interview started with a nod to Bush's family history, asking whether Jeb was mad at his mother for saying she didn't know if we needed another Bush in the White House. It was the clever opener, a delicate but direct way of saying the first thing that almost anyone says about Bush—do we really need another one? Bush's job was to acknowledge this fundamental concern, and he did. "That was a little difficult," he said, "but since that time she's had a change of heart." The implied hope was that others might too.
The rest of the interview was heavily focused on the other two issues of conservative domestic policy disagreement (national security was the other major topic, although there wasn't much daylight between Bush and the crowd).
Speaking rapidly but not quite nervously, Bush firmly defended his support of Common Core, but said that he understood that, with the current Department of Education, it might become the sort of Washington overreach that many conservatives worried about. It was a polite way of suggesting that worries about the program aren't totally crazy, but that he nonetheless disagreed. Asked directly if it was a federal takeover of education, Bush practically cut Hannity off to say, "No, it's not. And it shouldn't be." In Bush's framing, Common Core is about standards, not control.
An even bigger share of the interview was focused on immigration. Bush was adamant that he favored securing the border. "Let's control the border," he said. "There's nothing wrong with that. That's what a great nation has to do."
But he also insisted that any plan to reform the immigration system include a realistic plan to deal with the millions of illegal immigrants already inside the nation's borders. "The simple fact is there is no plan to deport 11 million people," he said, adding, to the crowd's vocal disapproval, that "we should give [illegal immigrants currently in the country] a path to legal status." Doing so would make it possible for those immigrants to work, not break the law, learn English, and "make a contribution to society."
What about the millions of poor and out of work Americans, Hannity countered. Shouldn't they be first in line for jobs, not immigrants? Bush pushed back again: "The simple fact is that this nation needs to start growing at a far faster rate than it's growing today," he said, adding later that, "I believe what we ought to be focused on growing the economic pie."
The big theme of Hannity's questions was that Bush diverged from the CPAC line in some serious ways. The big theme of Bush's responses was that those disagreements are distractions from the larger goal: creating opportunity through economic growth, especially for the middle class.
"We need to give people a sense that if we started growing our economy again, the middle would start growing again," he said early on. Throughout the interview, he tied any discussion of domestic policy to the need for growth. He came as a sinner, looking for atonement, but also as a preacher with a vision of a way to wash away all sins. That vision: "high sustained economic growth, where more people can have earned success."
The phrases "earned success" and "sustained growth," or variations on them, were repeated several times during the 20 minute interview. This was what Jeb Bush really wanted to talk about, what he really wanted to sell. It was the only way to break out of the party's Obama-era struggles. Republicans, he argued, had spent too long being against things, and weren't focused enough on a positive message.
"It's good to oppose the bad things, but we need to be for things," he said early in the interview. Several minutes later, as the session was heading toward a close, he repeated the idea again. "We need to change the subject to high-sustained economic growth." For 20 minutes on stage at CPAC this afternoon, that's certainly what he tried to do.