Army Vet Serves Ex-Cop Summons for Brutality Lawsuit; Prosecutors Charged Him With Multiple Felonies Based on Testimony Contradicted by Cellphone Video
Seven witnesses, all government employees, told stories that appeared to contradict video taken by the Louisiana man's family.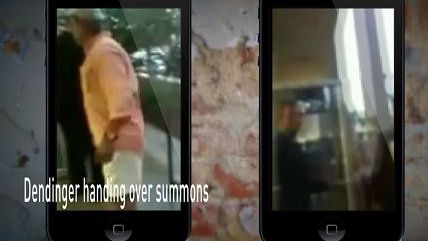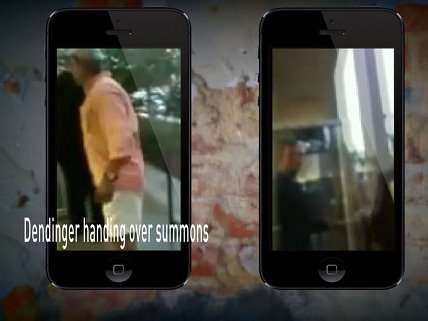 More than two years ago, disabled Army veteran Douglas Dendinger agreed to serve papers to a former cop from Bogalusa, La. for his nephew's brutality lawsuit against the officer. The same day he served the cop, Chad Cassard, outside a courthouse he was charged with obstructing justice and intimidating a witness, felonies, and simple battery. Dendinger says local deputies and prosecutors had clustered around him after he served Cassard, and that they threw the summons back to him and cursed at him. Less than half an hour after he got back home, police showed up to arrest him.
WWL-TV reports:
In a scene described in the lawsuit, Dendinger recounted a nervous night handcuffed to a rail at the Washington Parish Jail. He said he was jeered by officers, including Bogalusa Police Chief Joe Culpepper, who whistled the ominous theme song from "The Good, the Bad and the Ugly."

After his family posted bail, he said he was hopeful that the matter would be exposed as a big misunderstanding. After all, he thought, a group of police officers and two St. Tammany prosecutors witnessed the event.

"When I agreed to do it, I felt it was nothing more than someone asking to pick up a gallon of milk at the convenience store on the way home," Dendinger said. "I know I didn't anything wrong. I was worried, but people told me, 'Cooler heads will prevail.' "

But instead of going away, the case escalated.

Supported by two of his prosecutors who were at the scene, [St. Tammany District Attorney Walter] Reed formally charged Dendinger. Both prosecutors, Julie Knight and Leigh Anne Wall, gave statements to the Washington Parish Sheriff's Office implicating Dendinger.

With the bill of information, Dendinger's attorney Philip Kaplan said he got a bad feeling.

"It wasn't fun and games," Kaplan said. "They had a plan. The plan was to really go after him a put him away. That's scary."
Cassard accused Dendinger of slapping him in the chest. One of the attorneys said she thought she heard Dendinger punch Cassard. Prosecutors ended up lining up seven witnesses against Dendinger, and he faced up to 20 years if convicted.
Even the Bogalusa police chief was in it on it. Via WWL-TV:
Police Chief Culpepper gave a police statement that he witnessed the battery, but in a deposition he said, "I wasn't out there." But that didn't stop Culpepper from characterizing Dendinger's actions as "violence, force."

When Dendinger saw the police report, he said his reaction was strong and immediate.

"I realized even more at that moment: These people are trying to hurt me."
At the last minute before going to serve Cassard, Dendinger decided to bring his wife and nephew along to film the hand-off of the summons to the cop on their cellphones. The two videos appear to contradict the entire story presented by prosecution witnesses (including prosecutors). It took almost a year before Dendinger's lawyers could force the district attorney, whose prosecutors were involved in the incident, to recuse himself. Kicked up to the state Attorney General's office, the charges were dropped.
Dendinger is suing the cops involved, the district attorney, and the two prosecutors who said they witnessed Dendinger serving Cassard the summons, as well as the sheriff of Washington Parish, where Dendinger lives, for, among other things, false imprisonment, perjury, and abuse of due process. The parish sheriff told WWL-TV he's "confident that all claims against all WPSO deputies will be rejected and dismissed by the court."
Reed chose not to run for re-election last November. One of the prosecutors, Wall, reportedly no longer works at the district attorney's office, but the other does. The new district attorney insists he's investigating the case but says he won't comment because of the lawsuit.
h/t Taylor W.