Cody Wilson's "Ghost Gunner": Banned by FedEx?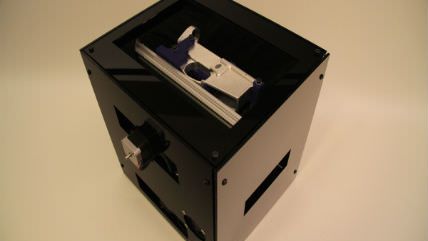 Cody Wilson has dedicated his professional career to stirring up trouble, whether through his work on the first 3D-printed plastic handgun, the Bitcoin "dark wallet," and now the "Ghost Gunner". (I profiled Wilson in Reason back in December 2013.)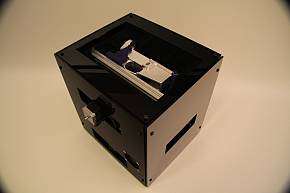 Today Wilson tells me a story reminiscent of his earlier efforts, where businesses whose tools or services he used toward his subversive goals, from banks to payment companies such as Stripe to 3D printer manufacturers, got nervous about being anywhere near him.
Corporate entities have tended to show great discomfort with being connected in anyway with his efforts. But as Wilson told me in my Reason profile, the very efforts to stop him from doing what he wants to do often feed into his success, often via the press blowback they engender.
Here's what the Ghost Gunner is and does, and why, from my earlier reporting. It's:
a tabletop milling machine which can, quoting from their FAQ, "manufacture any mil-spec 80% AR-15 lower receiver that already has the rear take down well milled out. ….Lowers with non-mil-spec trigger guards that are otherwise mil-spec are also compatible. Defense Distributed recommends using the 7075 Ares Armor Raw 80% Lower AR-15 Billet."

Wilson launched the project in response….to "the rhetoric developed out of California of detectability as the norm, of the observability of everything to the modern state. This guy [state Rep.] de Leon defined as a 'ghost' something not intelligible to the state and that's a perfect way of talking about it. So this device will cut aluminum and it's good at finishing an 80 percent lower receiver for an AR-15 in under an hour." (Roughly, the ATF declares any lower receiver that is more than 80 percent complete as an actual gun subject to all regulations on actual guns.)
After months, Wilson tells me this morning, of trying to set up a merchant account with FedEx (via the NRA Business Alliance, no less), he says he was informed Friday on the phone by a FedEx representative that they were not going to be able to ship his Ghost Gunner.
"I told them, look you guys ship guns, this should not be a controversy. This is not regulated. This is totally settled law here." Still, so far, no go. Wilson was just told that they won't be able to ship the Ghost Gunner, with no specific explanation as to why, and nothing in writing.
Wilson was told by his FedEx contact that a superior would get back to him, but that hasn't happened yet. Wilson's annoyed to find a scared company "hiding a decision behind color of law when the law could not be more settled; we are a country of riflemen and we can make rifles" at home, for personal use. 
Wilson wonders to me whether Ghost Gunner's very liberation for its users from the normal industrial and business system of gunmaking, in which existing companies sell their products to you, not provide you with the means to make your own, might have his effort marked for destruction by dark forces of "corporate collusion."
Wilson has consulted with lawyers on whether his Ghost Gunner raises any legal or regulatory questions involving weapons, and he provided me with a memo from his legal counsel stating that "under current relevant law, regulation and policy, the GG Mill (which includes the required firmware) as a product is not subject to GCA [Gun Control Act] regulation, nor  is it otherwise subject to ATF jurisdiction, control, or regulation." It's just a tool, a milling machine, and Wilson is sure there is no legal issues that should prevent  FedEx from shipping it.
Wilson's product, which allows for private home manufacture of AR-15 lowers without serial numbers all the more important since a January BATFE directive essentially bars licensed federal firearms makers from renting the use of their milling equipment to non-licensed private gun makers. To quote from the ATF regulation:
any person (including any corporation or other legal entity) engaged in the business of performing machining, molding, casting, forging, printing (additive manufacturing) or other manufacturing process to create a firearm frame or receiver, or to make a frame or receiver suitable for use as part of a "weapon … which will or is designed to or may readily be converted to expel a projectile by the action of an explosive," i.e., a "firearm," must be licensed as a manufacturer under the GCA; identify (mark) any such firearm; and maintain required manufacturer's records…..

Held further, a business (including an association or society) may not avoid the manufacturing license, marking, and recordkeeping requirements of the GCA by allowing persons to perform manufacturing processes on blanks or incomplete firearms (including frames or receivers) using machinery, tools, or equipment under its dominion and control where that business controls access to, and use of, such machinery, tools, or equipment.
So, you as a private citizen who is not in the business of making weapons can still make them at home without serial numbers, if anyone will ship you Wilson's Ghost Gunner. But GCA-licensed gun makers cannot do it for you with their equipment anymore.
To get his product shipped to his customers, Wilson complains, he might have to "smuggle my product out of Austin." He has not yet attempted to use the U.S. Postal Service; the anarchist Wilson says he "never thinks of the U.S. postal service first." But he definitely needs a bulk pickup deal from some shipper, not to have to bring them in one by one over the counter, for his company to remain financially viable, he says. 
I've left messages via phone and email with the FedEx employee in question and after eight hours he has not responded. I will update this post with any clarification or comment from FedEx when or if it arrives.