Victory Over North Carolina Attempt to Ban Giving Unlicensed Paleo Dietary Advice Online
Steve Cooksey Can Now Speak Freely About Diet in North Carolina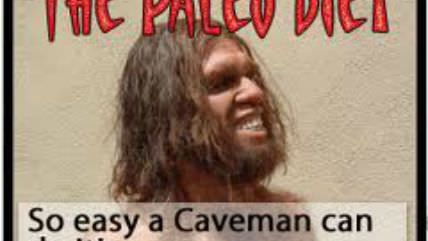 More great news from the rights-warriors at the Institute for Justice (I.J.) in the cause of free speech, as they report in a press release emailed today that I cannot as yet find on their website is now online.

The case involved North Carolina's Board of Dietetics/Nutrition attempts to prevent Steve Cooksey from blogging about his experience with and advocacy of the paleo diet—roughly, trying to eat only things humans might have eaten pre-agriculture—without being duly licensed by them to speak. Weird in a country with the First Amendment, you might think, and so did Cooksey and I.J., so they sued about it back in 2012.
I reported on this illegitimate attempt to quash Steve Cooksey's speech in April 2012, May 2012, and October 2012.
To quote from the I.J. press release about the happy resolution:
Last week, the North Carolina Board of Dietetics/Nutrition voted to adopt new guidelines allowing people to give ordinary diet advice without a government license, thus settling a May 2012 First Amendment lawsuit filed by diabetic blogger Steve Cooksey of Stanley, N.C….

"Last week's board vote recognizes that North Carolinians do not need the government's permission to give someone ordinary advice," said Institute for Justice Senior Attorney Jeff Rowes, who represented Cooksey in his lawsuit. "North Carolina cannot require someone like Steve to be a state-licensed dietitian any more than it could require Dear Abby to be a state-licensed psychologist.
How the case started:
However, in January 2012, the North Carolina Board of Dietetics/Nutrition informed Cooksey that he could not give readers personalized advice on diet, whether for free or for compensation, because doing so constituted the unlicensed practice of dietetics. The board deemed Cooksey's advice the unlicensed practice of nutritional counseling, sent him a 19-page print-up of his website indicating in red pen what he was and was not allowed to say, and threatened him with legal action if he did not comply.
These crummy anti-First Amendment practices still exist across the country even with this settlement victory for Cooksey:
Cooksey's situation is not unique—the Institute for Justice is currently litigating two similar cases based out of Texas and Kentucky. In Texas, the Texas Veterinary Board wants to use its licensing power to shut down a retired veterinarian who uses the Internet to give veterinary advice to pet owners who often live in remote areas of the world without access to veterinarians. In Kentucky, John Rosemond—America's longest running newspaper advice columnist—was ordered by the state's Psychology Board to cease publishing his parenting column because the Board believes John's column constitutes the "unlicensed practice of psychology."
My 2013 reporting on the Rosemond case.
I.J.'s full page on the Cooksey case's history with many legal filings.