Why Does This Detroit Man Have to Walk 21 Miles to Get Back and Forth from Work Every Day? Because the Government Runs the Buses.
A blockbuster story in the Detroit Free Press highlights the failures of government transportation policy.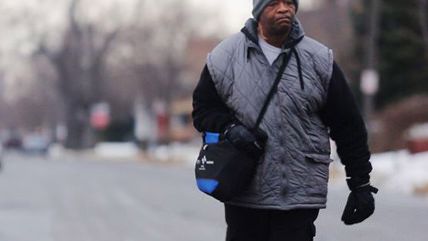 You've got to admire James Robertson's grit. This 56-year-old Detroit resident walks 21 miles every day to and from his job at a suburban car parts factory. His commute takes so much time that it leaves him just two hours to sleep before he has to get up and do it again.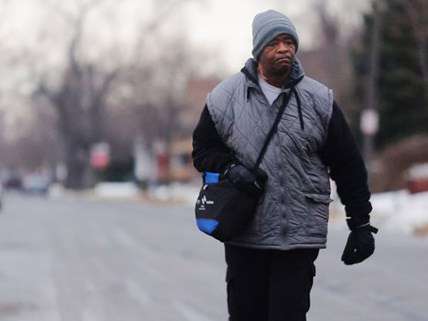 Robertson is the subject of a recent blockbuster article in the Detroit Free Press, which is both an inspirational story of one man's determination to overcome the miles of pavement between him and an honest day's work, and a troubling reflection on Detroit's disgraceful transit system. Robertson voices no complaints about his monster commute in the article; on the subject of his work ethic, he told the Free Press, "I just get it from my family. It's a lot of walking, I know."
The story prompted an outpouring of support from readers, including a Wayne State University student who set up a charitable campaign that so far has raised $350,000. Robertson has also been gifted a brand new Ford Taurus that's already alleviating his daily grind. Since the original story appeared, the Free Press has published a series of follow-ups looking at the implications of Robertson's story, which provides the perfect hook to explore some high-concept public policy issues. Lefty labor economists often attribute high rates of inner-city joblessness (Detroit's unemployment rate is about 12%, or roughly double the state average) on the "spatial mismatch" theory, which holds that after the manufacturing industry fled cities, poor urban residents were left with no way to get to work.
The real cause of Robertson's plight is more straightforward: The government does a terrible job of getting federal transit dollars to those who need them most, while at the same time constraining private initiatives that could make Detroit far more commutable without costing taxpayers a dime.
Robertson used to own a car, but after it broke down he didn't replace it primarily because he couldn't afford insurance. That's no surprise, given that Detroit's car insurance premiums are 165 percent the U.S. average, or the highest in the nation.
Why is basic liability coverage so costly? Michigan is the only state that doesn't cap personal injury claims related to car accidents, and its no-fault insurance law means that drivers are responsible for their passengers' medical costs whether they're to blame for an accident or not.
In 2014, House Republicans introduced a bill that would cap payouts and create an office to investigate fraud, but state Democrats, with the backing of personal injury lawyers and health care professionals, lined up in opposition.
So why isn't there a network of buses that can take Robertson to work? The Detroit metropolitan area is home to one of the nation's worst bus networks, providing limited service to the suburbs, and plagued by constant breakdowns and long wait times.
Last year, the federal Department of Transportation (DOT) gave Detroit a $25 million grant to buy 50 new motorcoaches, but it simultaneously committed roughly double that amount to help build a $137 million (and counting) light-rail boondoggle, which will service one 3.3-mile stretch along the city's main thoroughfare. The system may please the sensibilities of upper middle class professionals who drive from the suburbs to downtown Detroit (I'm doubtful they'll actually ride the damn thing), but it won't improve the mobility options for the vast majority of Motor City residents, including Robertson, who depend on buses.
The private sector could do a much better job of providing cheap and convenient transit, but the city of Detroit has outlawed the independent dollar vans and jitney operators that help so many low-income workers get to their jobs in New York City—again limiting Robertson's choices.
While reporting Robertson's story, Free Press reporter Bill Laitner discovered that the DOT's Job Access and Reverse Commute Program has granted the city funds to pay for door-to-door transportation for low-income workers," but Robertson "was not aware of the program."
No wonder. A follow-up investigation by the Free Press found that the $17.4 million in federal funds provided since 2004 were never spent. That is until six months ago, when the program finally got going. It currently serves 1,660 people, or about 0.2 percent of Detroit residents.
Robertson himself best summed up the wastefulness of this initiative. "I'd rather they spent that money on a 24-hour bus system, not on some little bus for me," he told the Free Press. "This city needs buses going 24/7. You can tell the city council and mayor I said that."
Back in 2010, Nick Gillespie and I looked at Detroit's dreadful bus service and light-rail follies for Reason TV: