Man Stops Robbery with His Taser, Is Charged with Felony Possession of a Weapon
I hope he learned his lesson. About helping people. And protecting himself.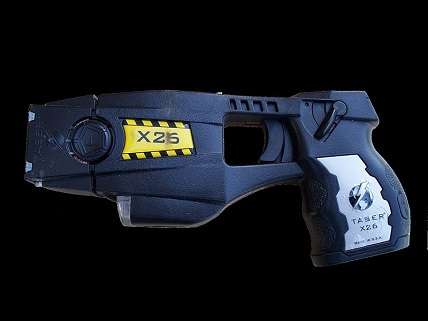 A woman attempted to rob a bar in La Crosse, Wisconsin, but was thwarted by a customer with a taser. The police are making sure justice is served and have arrested the woman.
They arrested the man with the taser, too. That's because it's against the law in Wisconsin to carry a taser without a permit.
The incident took place in the early morning hours at King's Korner bar. A former employee pointed a gun at the bartender and demanded the money in the cash register. But customer Jeff Steele brandished his taser at the burglar, and she ran off. She was apprehended shortly thereafter.
Steele didn't actually use the taser, according to the batender. Still, he will face a felony weapons charge, according to WKBT:
Steele is being charged with possession of an electronic weapon, which is a felony, because he doesn't have a concealed carry permit for his Taser.

"You can have it in your home and on your private property without a concealed carry permit, but you do need to keep a concealed carry permit to carry it out in public," said Officer Lisa Barrix, with the La Crosse Police Department.

"When I bought it off the Internet it said basically that it's legal to have in the state of Wisconsin, but didn't go into any depth on it, so I assumed that it was legal to carry around, otherwise why would you buy one to leave it at home? How is it for defense then?" Steele said.

Barrix says because Steele tried help he wasn't immediately taken to jail.
What a great message—exercise your Constitutional rights and defend someone from a potentially violent crime and you won't be taken to jail immediately.
For his part, Steele claims he ordered the taser online and didn't know he was only allowed to keep it in his home. He lives in a rough neighborhood, and if he can't leave his house with the taser in tow, it defeats the entire purpose.
I hope he learned his lesson. About helping people. And protecting himself.