Dean Smith: A Fan's Notes
A coach and his devotees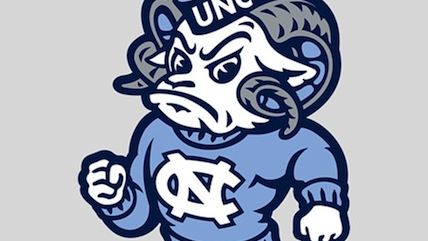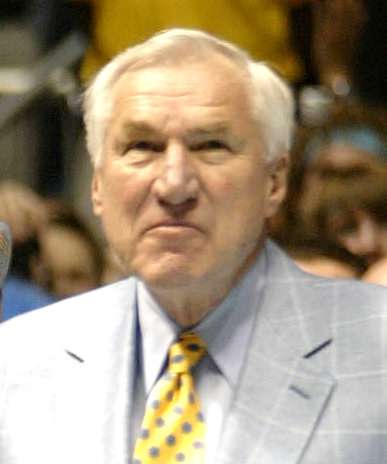 I'm sure it was possible to live in the Chapel Hill area between the late 1960s and the late 1990s without basketball being a part of your life. I just don't think I ever met anyone who managed to do it. I've never been anybody's idea of a serious sports fan, but as a boy I watched or listened to the vast majority of the Tar Heels' basketball games throughout the early and mid '80s, not really getting out of the habit until I shipped off to live without a TV in a college dorm several states away. And even then I paid attention when I could, cheering against my own school when it played UNC in the 1993 NCAA finals. Michigan may have been my alma mater, but North Carolina was the place that had taught me to appreciate the game.
So I grew up admiring Dean Smith, the legendary Carolina coach who died this weekend after a long illness. Others have written capably about Smith's immense skills and about the strong role he played in the lives of his players. I can speak only for the fans, be they casual or committed, who had the good fortune to be living in the backyard of a great basketball program. I remember the moments you'd expect a Tar Heel of that era to remember, like Michael Jordan shooting the winning basket in the 1982 NCAA tournament, and I remember stuff that feels hopelessly obscure, like Smith's habit of putting the beloved benchwarmer Timo Makkonen on the court when the Heels had a comfortable lead. (Sending him in was a nice thing to do, but it also gave Carolina fans a fine way to taunt the other team. "Tiiiiiiiiimo," the crowd would chant, elongating his name in a way that said, We can't lose this now; send the big Finn into the game. "Tiiiiiiiiiiiiiiiimo," they'd shout, declaring the win so firmly in the bag that they were comfortable seeing Makkonen take Sam Perkins' place. Only now, three decades later, does it occur to me to wonder how Mr. Makkonen felt about this.) And I'm hardly the only person carrying those memories around. If you grew up in that part of the country while Dean Smith reigned, your memories of Smith's teams are probably woven tightly with your memories of your childhood. We weren't a part of the players' lives, but they were a part of ours.
Since I'm writing this remembrance for a political website, I ought to mention Smith's activist side, though I hate to think what wars the subject will set off down in the comment thread. I picture one of you pointing to Smith's efforts for civil rights as an example of leadership by moral suasion rather than coercion. Then, I imagine with dread, someone will counter that Smith was only in a position to strike his blows against discrimination because of his role at a public university and in the NCAA, twin pillars of government. Then someone else will say no, the NCAA is a private association. Before you know it, everyone will be debating whether student-athletes should be paid, and the only guy talking about Smith will be some troll trying to tell us libertarians don't believe in teamwork.
Still: It bears mentioning. Smith was a liberal. He did his part for desegregation in the '50s and '60s, and he later recorded radio ads for the nuclear freeze movement and campaigned against the death penalty. ("You're a murderer," he famously told the governor. "The death penalty makes all of us murderers.") It's safe to say he was to the left of a lot of his fans. Hell, it's safe to say he was to the left of a lot of his colleagues. (Bill Cobey, probably the most conservative man ever elected to represent me in the U.S. House, served as Carolina's athletic director before he went to D.C.) Here's a table from a fan survey conducted in late 2000 and early 2001—a few years after Smith stepped down as coach, but close enough to figure things hadn't changed much since Smith was in charge: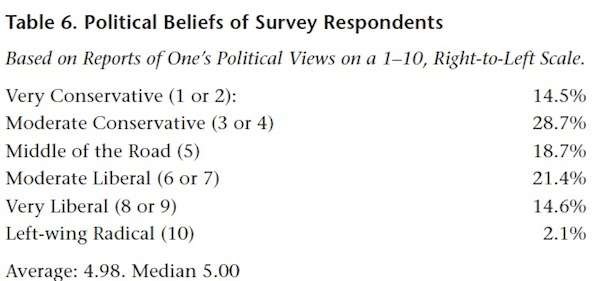 (I got those numbers from Thad Williamson's More Than a Game: Why North Carolina Basketball Means So Much to So Many. I've known Thad since kindergarten, so I'm biased here, but if you want to read just one book on UNC's fan culture, read his.)
Did conservative fans grumble when Smith endorsed a nuclear freeze? Sure, some did. But I suspect that if you polled them on who they admired more, Smith or Duke's Republican coach Mike Krzyzewski, approximately zero would pick Coach K. That might be because they appreciated everything Smith had done for their favorite team. It might be because, ideology aside, they knew Smith was a fundamentally good man. Or maybe it's just that some things transcend mere partisan politics, and one of those things is Duke.