Jupiter Ascending
The Wachowskis flame out in a welter of digital overkill.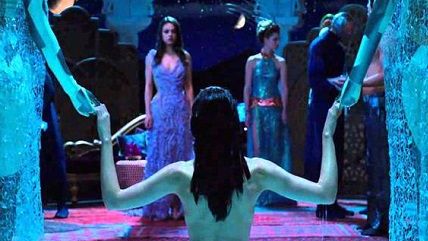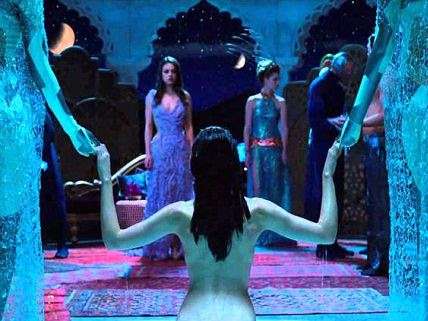 To judge by their plunging box-office grosses, the once-celebrated Wachowski siblings are an object of dwindling interest for many filmgoers. In the 16 years since they wowed the world with The Matrix, Andy and Lana Wachowski have tested their audience with movies of mounting inscrutability. First came the dumb-and-dumber Matrix sequels. Then we had the candy-cane manga oddity Speed Racer. And then, three years ago, the hilarious but entirely un-amusing Cloud Atlas. Now they've written and directed Jupiter Ascending, a $175-million CGI riot that scales new heights of multiplex mindlessness.
The movie is exhaustingly awful. Mila Kunis stars as Jupiter ("Call me Jupe") Jones, a toilet-scrubbing Chicago cleaning lady who suddenly learns that she is actually the heir to an intergalactic empire ruled by the House of Abrasax. The Abrasax queen has died, and in the family's faraway palace headquarters, her unpleasant offspring—Balem (Eddie Redmayne), Kalique (Tuppence Middleton), and Titus (Douglas Booth)—have taken control. Somehow, though, they've learned of Jupiter's existence on Earth, one of the many orbs in their planetary portfolio, and they're not happy about it. Because Jupiter is an exact genetic duplicate of their mother, and therefore the rightful new ruler of Abrasax. (The themes of reincarnation and Chosen Ones will be familiar to Wachowski adepts.)
A tracker named Caine (Channing Tatum) is dispatched to seize this troublesome woman and bring her back to the evil Lord Balem. However, after saving her from a gang of bounty hunters with the same idea, Caine has second thoughts. Jupiter is attracted to the often-shirtless Caine, but he is reluctant to reciprocate. (He might be put off by their complete lack of romantic chemistry.) He explains that he is a "splice"—a genetically engineered human whose DNA has been melded with that of a wolf. ("I have more in common with a dog than with you," he tells Jupiter. "I love dogs," she says.) This canine character quirk is puzzling, since at no time does Caine exhibit wolfish behavior. Stranger still, he also has wings—or he did, until they were sawed off following some vague tracker infraction. And then there are his levitation boots, a pair of super-sneakers that enable him to shoot off into the sky and skate around as if he were auditioning for a Starlight Express revival. ("Are those flying boots?" Jupiter asks, as he rises up off the ground.)
Wondering what's so special about Jupiter, Caine takes her to visit an old tracker buddy named Stinger (Sean Bean), who's been exiled on Earth and lives in a dilapidated farmhouse in which the air is thick with bees. "Bees are genetically designed to recognize royalty," Stinger explains with a straight face, and sure enough, they're all abuzz about Jupiter.
The story lumbers on. As Caine dutifully shepherds Jupiter back to the Abrasax home world, we encounter vast exotic planets and endless space battles, along with the usual herds of eccentric creatures (lizard warriors, elephant-faced spaceship pilots). A lot of this digital welter is reliably eye-popping, but it's executed in the familiar manner of blockbuster spectacle, which by now is only a bit more exciting than watching cash being counted. There's one funny sequence, set in the bureaucratic morass of a galactic ministry, which is an obvious salute to Terry Gilliam's Brazil (with a cameo appearance by Gilliam himself). Apart from that, though, the humor is largely unintentional. The dialogue, especially, is a hoot throughout, with characters saying things like "Make the deal!" and "Just get me out of here!" At one point, Jupiter tells Caine, "You are a man of rare courage, and I pray that your aim is true."
Jupiter finally comes face to face with the black-hearted Balem and learns of his plans for her home planet, which are predictably alarming—although not as alarming as Redmayne's performance, which is flamboyantly silly. He delivers most of his lines in a weirdly effete murmur, his hands fluttering through the air like bony butterflies. It's the most bizarre posturing by an Oscar-level actor in recent memory, and at the screening I attended it was greeted throughout by gusts of audience laughter. Also problematic are Kunis, who lacks the sort of star power that might help goose this movie along, and Tatum, who is cruelly misused as nothing more than a mopey hunk.
What went wrong with this movie? Its troubled backstory offers a clue. The Wachowskis were given their biggest budget to date to make it, but at two hours and five minutes, it's also their shortest film. (Cloud Atlas ran nearly three hours.) The picture was due to be released last July, presumably in hopes of erecting a summer tentpole. But early feedback was unenthusiastic, and so just six weeks before the scheduled release, Warner Bros. suddenly pushed the movie back into the icy wastes of winter in order for more work to be done on it. The result feels radically hacked-down, with characters and plot elements withering away at every turn. For the Wachowskis—gifted visual artists, if not writers—the picture is another sad failure, and it's hard to imagine anyone giving them this much money to burn through again. On the upside, though, that could turn out to be a good thing.