Young People See More Wiggle Room on Vaccinations
Millennials are far more likely to think parents should get to decide whether to vaccinate their kids.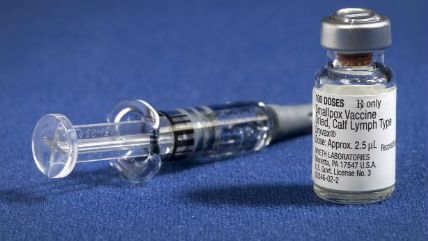 The Internet is atwitter over comments made by Kentucky Sen. Rand Paul on whether parents should be required to vaccinate their children against some dangerous and highly communicable diseases. In an interview on CNBC yesterday, Paul defended the idea that most vaccines ought to be voluntary.
A solid majority of Americans disagrees with the senator's position. Nearly seven in ten adults think the government should require that children be vaccinated against things like measles, mumps, rubella (MMR) and polio, according to a survey conducted by Pew Research last August.
It turns out, though, that millennials are significantly less likely to feel that way. Pew found that the youngest respondents (those between the ages of 18 and 29) were twice as likely as the oldest respondents (those 65 and up) to say that parents should be able to decide whether to vaccinate their kids. This could be a reflection of youngsters' radical commitment to individual freedoms. Or it might be that millennials, who never experienced scourges like widespread polio the way their grandparents did, are less educated about the medical benefits of vaccination.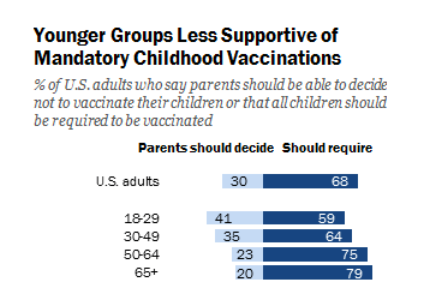 Interestingly, anti-vaccination sympathies aren't as widespread among elites as one might think. Per the report:
Although some have linked the anti-vaccination movement to more-affluent, highly educated parents, Pew Research data show little difference in people's views based on income or education.
There is one group that overwhelmingly supports making vaccines mandatory: Scientists themselves. According to Pew, American adults generally are more than twice as likely to think parents should get to choose not to vaccinate their children (30 percent) compared to members of the American Association for the Advancement of Science (13 percent).