Venezuelan Security Agent Fingers Head of National Assembly as Leader of Drug Cartel
Diosdado Cabello alleged to be leader of a cartel based in the Venezuelan military.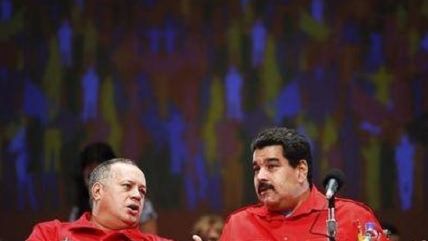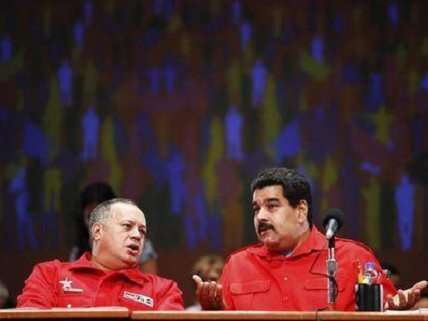 Leamsy Salazar, the former security chief for the head of the Venezuelan National Assembly Diosdado Cabello and a former bodyguard for the late Hugo Chavez, has defected to the United States. According to reports in the Spanish language press, the long-time military officer told U.S. investigators Cabello acted as the head of the Soles cartel, a drug cartel whose existence has been a matter of debate but which is alleged to be embedded in the Venezuelan armed forces.
The Venezuelan government, naturally, denies the claims. For his part, Cabello dismissed Salazar's allegations against him as a matter of "disloyalty," lamenting that Hugo Chavez's strength, loyalty, and love should have "rubbed off" on Salazar.
The story, via Foreign Policy:
Emili Blasco, the ABC reporter who broke the story, says that his report on Cabello's criminal enterprise draws upon information from anonymous "sources within the U.S. investigation" as well as an interview with the defector himself. The Soles are said to hold a veritable monopoly over the Venezuelan drug trade, which specializes in transferring cocaine produced in rebel-controlled territory in Colombia (near the Venezuelan border) to Mexican cartels. (The detour through Venezuela enables the Colombian traffickers to dodge their own security forces, who are ostensibly less corrupt than Venezuela's.) According to the ABC report, an astounding 90 percent of Colombian drugs pass through Venezuela.

Blasco's report weaves together several major themes from the annals of rumored corruption in Venezuela: the ephemeral arrest and failed extradition of Gen. Hugo "El Pollo" Carvajal on a U.S. warrant for drug charges; a truck found with $10 million in cash abandoned on the docks of Venezuela's principle port last month; and shadowy Cuban involvement — all punctuated with descriptions of giant piles of money and speedboats stuffed with tons of cocaine. The names of high-ranking Venezuelan leaders, an unsurprising list of "usual suspects" commonly associated with corruption, also appear, and the report carefully outlines their respective roles within the organization ("the money launderer," the "numbers guy," etc.).
Decriminalizing cocaine would rob narco-states and developing narco-states of a large source of revenue. Keeping it criminal, on the other hand, offers the United States and other countries interested in being seen as regional or global powers an excuse to interfere in the domestic affairs of another country, for the children. Venezuela's president, Nicolas Maduro, seems to think so. "Imperialist hands are behind this," Maduro said of the claims, which have also circulated in Venezuela long before Salazar's defection. "A hell of solitude awaits whoever betrays the revolution." Whether they've "betrayed the revolution" or not, most Venezuelan residents already live in a government-planned hell.