How Government-Funded Stadiums and Museums Harm Taxpayers
A few lessons in crony capitalism from the state of Virginia.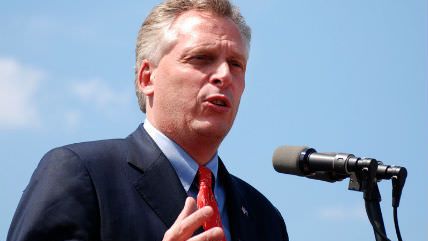 The meal you get at the take-out window usually doesn't look much like the picture on the billboard. But advertisers know hungry motorists base their decisions on pretty pictures, not reality. Hence the adage "sell the sizzle, not the steak." Falling for the sales pitch, though, is how you get burned.
Nearly a decade ago, state leaders and Richmond boosters groused when the region lost out to Charlotte in the contest to become home for the NASCAR Hall of Fame. Gov. Mark Warner lobbied hard for the hall, calling it a "world-class facility." Others termed the chance to host it a "once-in-a-lifetime" opportunity. "You can't underestimate what it would mean to bring it here," Warner gushed. "It'd probably be as big an economic stimulus to the region as anything we're looking at."
Warner—now Virginia's senior senator—offered to make a substantial investment in the Hall of Fame. Economic development officials waved heady predictions about its likely attendance and economic impact. The Richmond proposal consisted of a $103 million, 129,000-square-foot facility that supposedly would draw 700,000 visitors its first year. As The Times-Dispatch reported in early 2006, "Richmond planned a theme hotel, retail shops and restaurants to surround its museum and projected an economic impact of $188 million, which was nearly twice that of the nearest competitor, Atlanta ($100 million)."
Charlotte, however, made even bigger promises. It proposed a $200 million facility of 150,000 square feet that would bring in 800,000 visitors its first year and 400,000 annually after that.
Things haven't quite turned out that way. In its first year in Charlotte, the Hall of Fame drew only 270,000 visitors. By 2010, sponsors had pledged only $5 million. By last year attendance had shrunk to 170,000. Bank of America and Wells Fargo had loaned the project $19 million, with the promised sale of commemorative bricks and corporate sponsorships offered as collateral. A spokesman said the hall should be able to pay off its loans in 10 to 12 years.
That turned out to be overly optimistic, too. As a Charlotte Observer story—spotted by Style Weekly's Ned Oliver—reported last week, "the hall has lost more than $1 million a year." As a result, the Charlotte City Council has now "approved an agreement with Bank of America, Wells Fargo, and NASCAR to forgive more than $22 million in debt from the NASCAR Hall of Fame. Under the agreement, the city will pay the two banks $5 million. In exchange, the banks will write off $14.1 million in principal and $3.5 million in accrued interest. In addition, NASCAR will waive $3.2 million in royalties that it's owed since the hall opened." With all those changes, the hall might be able to break even next year. Fingers crossed.
This isn't the first time the Richmond region has won by losing. A lot of teeth got gnashed and fingers pointed in 2008 when the Braves baseball team pulled up stakes and headed to Gwinnett, Ga., which had agreed to build it a brand-new stadium. Many felt Richmond had blown it by failing to build a new stadium to keep the team here, and the arrival of the Flying Squirrels was a poor consolation prize.
As it turned out, Gwinnett soon suffered a severe case of buyer's remorse. The price of its new stadium shot up from $25 million to $64 million. Gwinnett borrowed $33 million to build it. Fans endured sticker shock at the high price for seats. Attendance fell far short of projections, and remains consistently near the bottom of the International League—even though a consultant had assured everybody Gwinnett was "one of the strongest markets in the country to support a minor-league baseball team."
Gwinnett's county administrator had promised that the stadium would pay for itself from the very start. It hasn't. Rent, ticket sales and money from naming rights and parking fees can't even cover Gwinnett's debt. Nor is the county reaping much ancillary benefit. A developer had planned nearly a million feet of adjacent retail and office space, along with 610 residential units and 300 hotel rooms. But as The Atlanta Journal-Constitution reported last January, "six years later, most of the development exists only on paper."
Many economic development projects succeed; some not only do so but surpass even wild expectations. It's dangerous to generalize. But it's also dangerous to take boosterish claims on faith. And such claims have been floating around Central Virginia regarding all sorts of things.
Richmond Mayor Dwight Jones' proposal for a baseball stadium is full of them. Richmonders also have been told to expect 450,000 visitors for the 2015 World Cycling Championships here next fall. That's more people than attended last year's World Cup soccer extravaganza. And Gov. Terry McAuliffe is asking state lawmakers to replenish economic-development funds that are used to lavish taxpayer dollars on private companies that relocate or expand in Virginia.
In his first year, McAuliffe already has burned through $68 million, even though a study by the state's legislative watchdog commission found such handouts have only a "small impact" on companies' decisions about where to locate.
A lot of sizzle. But how much steak?