Albuquerque Cops Who Killed James Boyd Charged With Murder; Had "Duty" to Kill Boyd Defense Says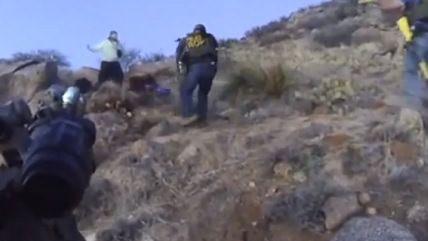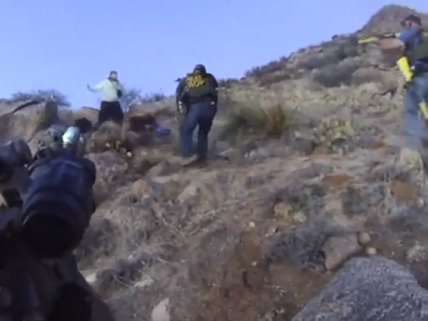 The district attorney in Albuquerque has charged two police officers on single counts of open murder—meaning they don't know yet what degree of killing the state intends to prove at trial—in connection with the killing of homeless camper James Boyd, caught on body camera last April. The killing led to some of the first anti-police brutality protests of the year last year. The two cops charged are Dominique Perez, a member of the Albuquerque Police Department (APD) SWAT team, and former detective Keith Sandy, caught on dashboard cam earlier that day saying he'd shoot Boyd in the penis. He was allowed to retire last year.
The cops' attorneys released statements ahead of a press conference by the district attorney expected later today. Via KRQE:
In a statement sent Monday morning, Sandy's attorney Sam Bregman claimed the charges are unjustified and that Sandy, "had not only the right, but the duty to defend a fellow officer from a mentally unstable, violent man wielding two knives. Keith did nothing wrong. To the contrary, he followed his training and probably saved his fellow officer's life." Bregman did not specify which of the four other officers who were confronting Boyd at the end of a four-hour standoff was saved.

The attorney for Perez, Luis Robles, also pointed to the judgement calls police officers make during critical moments. He told News 13 in a statement, "This is truly a shame. Throughout his career, Officer Perez has been called upon to make life-altering decisions while protecting Albuquerque citizens and his fellow officers. And having made one of those decisions, Officer Perez now faces an open count of murder. Regardless, I am confident that the facts will vindicate Officer Perez's actions in this case."
The FBI is also investigating the fatal shooting. After a review last year found probable cause for a pattern of civil rights abuses at the APD the Department of Justice appointed a federal monitor to negotiate policy reforms with the APD and the city.