Full Tamir Rice Video Released: Attorney Calls It 'Cruelest Thing I've Ever Seen,' And You Will, Too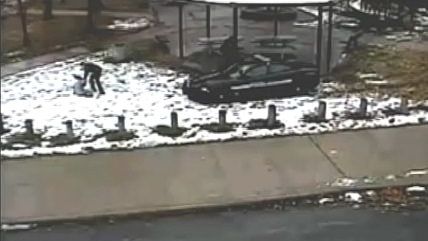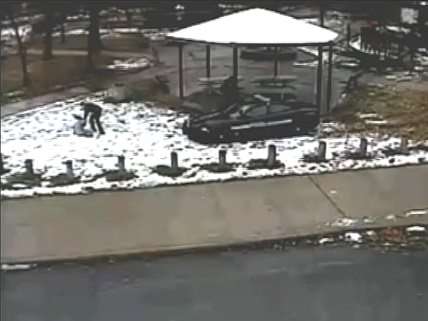 Reporters for cleveland.com obtained extended footage of the killing of Tamir Rice. The full video demonstrates police officers' callous indifference to the boy they had wrongly shot. The two cops allowed him to bleed for several minutes; the first person to administer aid to Rice was actually an FBI agent who happened upon the scene while the officers stood around doing nothing.
Well, that's not quite right. They did something—they intercepted Tamir's sister as she ran to help him, knocked her on the ground, wrestled with her, held her down, handcuffed her, and placed her in the squad car a mere 10 feet away from her mortally wounded brother. And it was there that she waited, according to cleveland.com.
Cleveland police were responding to an emergency call claiming that Rice had a gun, although the caller made clear that the gun was very possibly a fake replica weapon. Police officials have insisted that the responding officers were unaware of that suspicion, however. Regardless, they shot him within moments of arriving on the scene.
Timothy Loehmann, the officer who killed Rice, had a record of mental instability and was previous forced to resign from a different police force for his "dismal" gun performance.
After shooting Rice, the officers failed to administer first aid for the subsequent four minutes. Eventually, an FBI agent administered aid. Paramedics arrived around minute eight.
Walter Madison, an attorney representing the Rice family, said of the video: "This has to be the cruelest thing I've ever seen."
Madison said the video depicted officers who showed "overwhelming indifference" to Tamir as he lay on the ground.

"No one thinks that it's appropriate to try to save him," Madison said. "The first person who does is not affiliated with the Cleveland police department.

"This is the level of service that makes people very upset and distrustful of law enforcement."
The killing is being investigated by the county sheriff's department. Who wants to lay odds on the chances of an indictment?
Related: "Police Union Boss Defends Killing of Tamir Rice: 'When We Tell You to Do Something, Do It'"