NYPD Cop Shot in Bronx Not Happy Mayor Visited Him in Hospital. That's OK.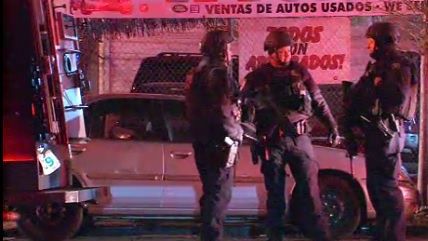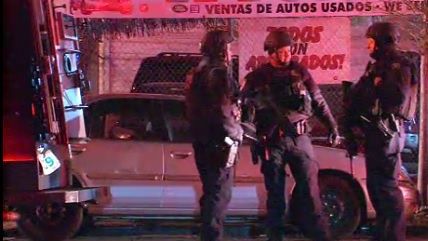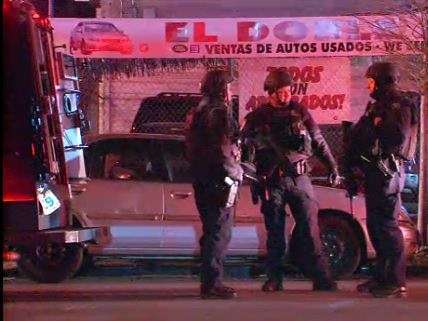 Late last night, two plainclothes officers in the Bronx were shot while responding to a robbery call. Both sustained non-life-threatening injuries and were taken to the hospital. There they were visited by Mayor Bill de Blasio (D). According to the father of one cop, the visit by the city's chief executive was not well received. The New York Post reports:
"He wasn't too happy about the mayor's visit," Dossi's dad, Joe, told The Post at the family's home in Rockland County.

"He (Dossi) deals with some crappy people every day and getting no support (from the mayor), come on. These are the guys in the trenches dealing with anything and everything."
The refrain that New York City cops are getting "no support" from de Blasio is popular but wrong. Prior to the murder of two cops in Brookyln last month, de Blasio's "embrace" of police reform protestors was limited to talking to a few of them, acknowledging some people were frustrated with the grand jury decision not to indict Officer Daniel Pantaleo over the death of Eric Garner, and telling the press he's talked to his biracial son about the potential dangers police may pose. It ought to be fairly uncontroversial stuff.
I'm no fan of Bill de Blasio; nevertheless, as the city's political leader, it's not out of the ordinary for him to try to be "everyone's mayor." Totally ignoring significant police reform protests and the tensions between marginalized communities and the police department would be as bizarre as condemning the entire police department. De Blasio has done none of that.
In fact, after the death of Eric Garner in a police interaction that began over the alleged sale of loose, untaxed cigarettes—the specific crime Pantaleo and the other officers involved in Garner's fatal arrest were ordered to enforce that day—de Blasio emphatically said he would continue to support the kind of "broken windows" policing that puts people like Garner, who had a history of selling loose, untaxed cigarettes, in the crosshairs of the police department.
On the balance, de Blasio is hardly "anti-police," or even a supporter of police reform. Since the murder of two police officers in Brooklyn last month, the NYPD has seen a staggering decline in low-level arrests and enforcement not ordered by city hall. Violent crime is down 5 percent so far this year vs. the start of 2014.
New York City police officers enjoy wide latitude on their actions as they relate to their employment status. They can't be fired for turning their back on the mayor or telling the press he's against them, and probably for good reason. But neither can Pantaleo be terminated merely because he put someone in a fatal, illegal chokehold. And the rookie cop who panicked and fatally shot Akai Gurley while patrolling a housing project stairwell can't be fired merely for causing someone's death. He texted his union representative first because he enjoys union protections that prevent homicide from being a sufficient reason to fire a cop. A cop can't be summarily terminated just because he killed someone while on-duty, even if the victim is unarmed or committing no crime at all.
Some liberals are incensed that New York City police officers are being so "insubordinate." The New York Times was upset that cops aren't enforcing laws that disproportionately bring minorities into unnecessary contact with law enforcement. Others understand the wider implication for labor unions, and specifically public unions. Police officers, like other government employees, can use the interruption of public services as a negotiating tactic, something even Franklin Roosevelt understood.
Police officers are ordered to enforce an increasing amount of laws imposed on inherently consensual, non-violent behavior. The NYPD's "work stoppage" includes only making arrests when "necessary." The steep drop in petty law enforcement did not come with a steep rise in real crimes. All those extra police interactions tend to affect poor and marginalized communities, the kinds of places those nanny state laws hope to "nudge" in the right direction. Coupled with the lack of accountability for police officers who kill in questionable circumstances while on duty and those who use excessive force that doesn't end in death, this all contributes to the perception that some lives don't matter.
Because they are entrusted with powers that can destroy the lives of people, police officers shouldn't enjoy job protections secured through collective bargaining. And though it may be difficult for some supporters of police reform to stomach, other government employees have powers that can destroy the lives of people too, because government and the "social contract" that underlies it demands compliance. For that reason government employees should not be granted by the government they work for "rights" that privilege their employment protections over the rights of the people, rights upon which their jobs can allow them to infringe. It shouldn't be necessary to prove beyond a reasonable doubt that a cop has committed a crime to terminate him.