Cop's Obama Rant Embarrasses Officials, Spurs 2014 Nanny of the Year Win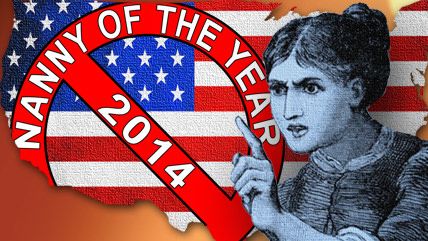 2014 may be over, but you shouldn't miss Reason TV's annual ignomious award of dishonor, the Nanny of the Year!
"Cop's Obama Rant Embarrasses Officials, Spurs 2014 Nanny of the Year Win" Produced by Ted Balaker and Matt Edwards. About 2 minutes.
Original release date was December 29, 2014 and the original writeup is below.
Our nation's control freaks got even freakier in 2014–from jetpacks to parking apps, eco-ATMs and powdered alcohol, they were determined to kill anything cutting edge.
They targeted everything from dogs in parks to births at home, and they'll sic cops on you for hoarding or smelling bad. You might even get busted for doing things that are legal–like vaping while driving, warning motorists about speed traps, or putting up Christmas lights.
And whether it's yanking chocolate milk, boogie boards, homemade libraries or sunscreen(?!), the control freaks are (all together now!): Doing it for the children.
It's fitting, then, that 2014's Nanny of the Year recipients justified their power grab on the same grounds (although the real reason may have more to do with protecting city officials from future caught-on-tape embarrassments).
Check out how one cop's rant ("Obama has decimated the friggin' Constitution") embarrassed a city council into taking home this year's top dishonors!
2 minutes, 21 seconds.
Follow Nanny of the Month on Twitter (@NannyoftheMonth) and submit your nominees for next month!
Nanny of the Month is written Ted Balaker (@tedbalaker) and produced by Balaker and Matt Edwards (@MattChrisEd). Edited by Edwards. Opening graphics by Meredith Bragg.
To watch previous episodes, go here.