You Can Go See The Interview On Christmas Day After All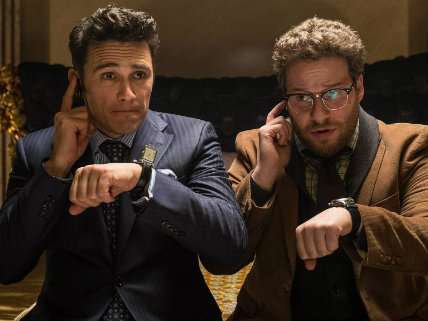 Looks like Texans, at least, will have the opportunity to see The Interview in theaters on Christmas Day after all: One week after Sony Pictures pulled the film from distribution following threats of violence at theaters showing the movie, a comedy about two American journalists tasked with assasinating North Korean leader Kim Jong-un, a Texas movie theater chain has just announced that Christmas day screenings will in fact be available.
Tim League, the founder of the Alamo Drafthouse cinema chain, announced today on Twitter that "Sony has authorized screenings of THE INTERVIEW on Christmas Day. We are making shows available within the hour."
It's unclear how many other theaters might be allowed to show the movie too, or how many would even want to if allowed. The five biggest movie theater chains backed out after the threats last week, but a group of more than 200 independent theaters posted a letter yesterday requesting permission to run the film. CNN's Brian Stelter reports that the movie will play in "limited release" on Christmas.
Even if it's not playing at a theater near you, however, you may be able to see The Interview at home. The Dallas Morning News also reports that Sony will make the movie available on a yet-to-be-named streaming video service.
It's a big victory for the Drafthouse, one of the better known small movie chains in the U.S. When Sony pulled the film last week, the Drafthouse initially announced that it would run screenings of Team America: World Police, a profane puppet comedy that ends with the revelation that former Korean leader Kim Jong-il is an alien cockroach, in its place. The Drafthouse, along with several other theaters, was told by Paramount that the screenings would not be allowed.
Update: It sounds as if The Interview will basically get an arthouse-style release in a few hundred independent theaters. Via The New York Times:
One person briefed on the effort said on Tuesday that it appeared unlikely that big chains like Regal or AMC would come on board but that Sony was likely to patch together distribution for the film in 200 to 300 smaller theaters. Already some theaters, like the Alamo Drafthouse chain, based in Austin, and the Plaza Theater in Atlanta have said they would show the film.

"Sony has authorized screenings of 'The Interview' on Christmas Day," Tim League, the chief executive of the 30-theater Alamo chain,wrote on Twitter on Tuesday morning. Mr. League did not immediately respond to a query.