Meet the 'Reason'
"Who can argue with reason?"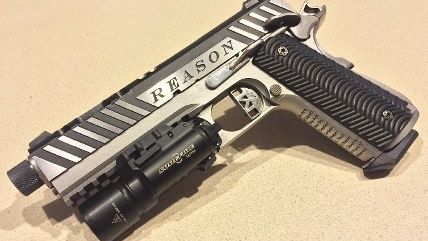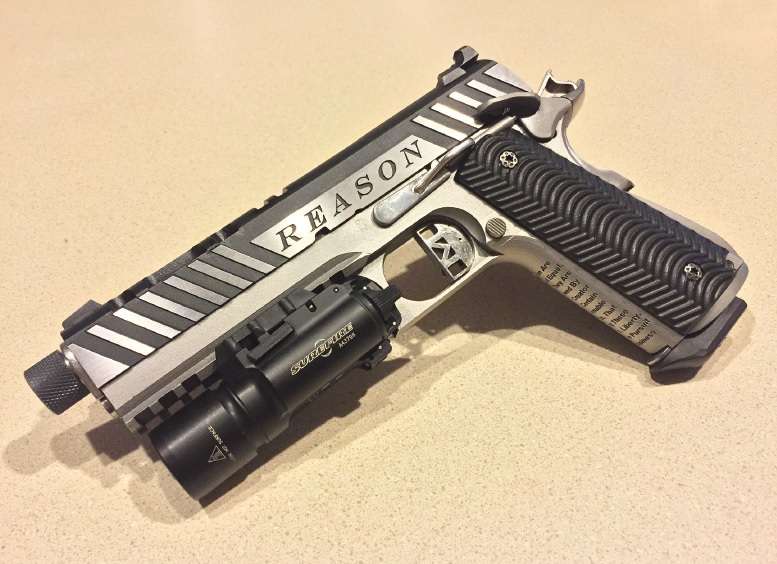 Asked why the 3-D-printed metal gun he designed has the word REASON emblazoned on its slide, engineer Eric Mutchler says, "Who can argue with reason?"
Mutchler's gun—which was not, alas, named after this magazine—also has the preamble of the Declaration of Independence picked out on the front of the grip, as well as a unique trigger designed to look like its creator's initial, M.
The weapon was made mostly from stainless steel on an EOSINT M 280 3-D printer with a technique called direct metal laser sintering, which uses a laser to heat metal powder. The whole piece, including the inscriptions, can be reproduced using downloadable CAD specs.
Mutchler's day job is with the 3-D printing firm Solid Concepts, which was recently acquired by the publically held Stratasys. Mutchler worked on the Reason (and its predecessor, the 1911, which was released last year and has since been fired over 5,000 times) on his own time. But after the tech press erroneously identified the weapon as a company product, his employer asked him to stop talking to media about the homemade gun.
The machine used to make the Reason costs over a half million dollars. Still, the gun is an example of the wide-ranging artistic, design, and technical possibilities of personalized metal printing, which will almost certainly get progressively cheaper and more widely available.
This article originally appeared in print under the headline "Meet the 'Reason'".