"…And a War in the Middle East"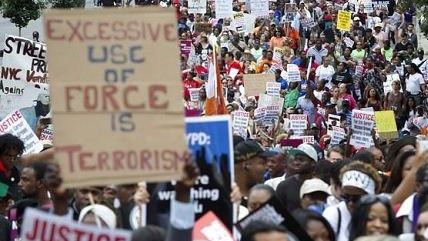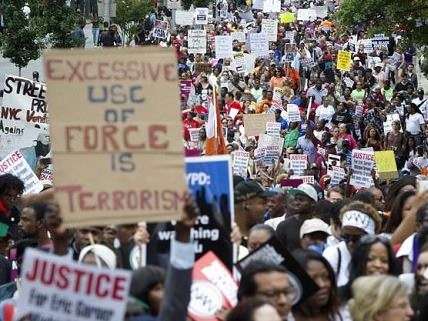 The United States has been in international news lately. Last week much of the world's media focused on the grand jury announcement in Ferguson, Missouri. Foreign reporters already in U.S. police news mode then picked up the grand jury announcement over the death of Eric Garner in New York City.
None of this, of course, is new. Cops in the U.S. have been killing hundreds of Americans of every race each year, in incidents ranging from good shots to murder. In just the month before the killing of Michael Brown in Ferguson captured the mainstream media's attention, cops in Ohio shot a man holding a fake gun in the fake gun aisle of Walmart and a cop in Georgia shot a 17-year-old in the chest after he opened the door for her holding a Wii controller, which is white.
While the attention to Ferguson helped the Eric Garner grand jury receive a level of media attention the second Ramarley Graham grand jury never did, it's still no guarantee of wider attention to incidents of police killings. The killing of Rumain Brisbon earlier this week over a bottle of prescription pills has yet to enter the national or international news cycle and is unlikely to.
But the U.S. is in international news for another reason, too, if not in domestic news, for the continuing campaign against ISIS. The U.S. conducted at least 25 more air strikes in Syria in the last week, strikes Syria's Bashar Assad has dismissed as unserious. King Abdullah of Jordan, one of the members of the U.S.-led coalition against ISIS called the struggle "our third world war." France is now conducting what's described as "major" raids in Iraq.
Amid all this, Sen. Rand Paul (R-Ky.), who has also been a leading national voice on police issues, is forcing a vote on the war (in all but name) with ISIS, by threatening to attach a declaration of war to a world drinking water bill being considered in the Senate Foreign Relations Committee, drawing the ire of Sen. John "not an angry bird" McCain (R-Az.), who said it was an example of why Congress shouldn't bother with lame duck sessions. Congress, of course, has failed to act as a check on the president's war-making powers both in the regular and lame duck sessions of Congress held during Barack Obama's presidency. He's the fourth consecutive president to commit U.S. military force to Iraq, and the first not to bother getting any kind of OK from Congress at all. And so war in the Middle East just doesn't cut it as news anymore.
Reason's annual Webathon is underway! Your (tax-deductible!) gift will help Reason magazine, Reason.com, and Reason TV bring the case for "Free Minds and Free Markets" to bigger and bigger audiences. For giving levels and associated swag, go here now.