White Cleveland Cops Claim Harsher Treatment When They Shoot Black Suspects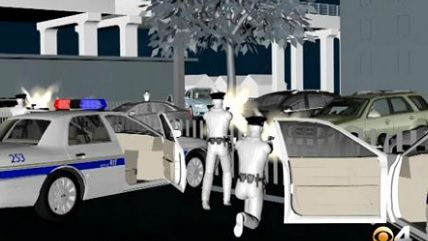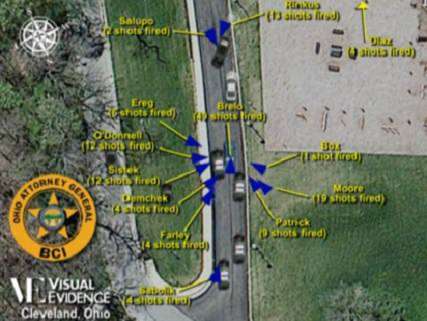 The cops involved in the fatal 2012 shooting of Timothy Russell and Marissa Williams, which occurred at the end of a 25 minute car chase involving at least 26 cops, are now suing for being treated unfairly by the department because they're not black and their victims are.
The chase began when a cop mistook the backfire of a car for gunshots. The city of Cleveland settled with the families for $3 million last month. Only one of the 13 cops who shot at Russell's car was charged, with involuntary manslaughter. He jumped onto the hood of the car and fired at least 15 rounds into the windshield. Five other cops were charged with dereliction of duty for allowing the car chase to get out of control. T
The other 12 cops involved in the shooting all got slaps on the wrist and a little bit of paid time off. But that minimal punishment cost the cops promotions they would have apparently been given otherwise, according to a lawsuit by 9 of them, as CNN reports:
"The City of Cleveland, through the other named defendants, and the other named defendants in their individual capacities, have a history of treating non-African American officers involved in the shootings of African Americans substantially harsher than African American officers," reads the lawsuit, filed Friday in the U.S. District Court for the Northern District of Ohio.

It continues: "A serious dichotomy exists as a result of the defendants' longstanding practices and procedures which place onerous burdens on non-African American officers, including the plaintiffs, because of their race and the race of persons who are the subjects of the legitimate use of deadly force."

The plaintiffs are seeking an unspecified amount of damages.
It's hard to tell when black officers are involved in fatal shootings—only white cops tend to have their race specifically identified in media reports about police shootings.
Neither the race nor identity of the Cleveland cops who shot 12-year-old Tamir Rice last month has been revealed. The attorney for the Rice family said the shooting wasn't a "black and white issue" but a "right and wrong issue."
Insofar as the allegations in the lawsuit are true, they should be rectified by applying harsher treatment to black cops involved in fatal shootings not by giving white cops involved in fatal shootings an easier time.
A ProPublica analysis of police shootings found it 21 times more likely for a black person to be a victim of a fatal police shooting than a white person. It also found that while 44 percent of police shooting victims it found in the last 33 years were white, for black officers more than 78 percent of their victims were black. Black officers were involved in about 10 percent of all fatal police shootings—in 2007 the Department of Justice found that about 25 percent of police officers in the U.S. are non-white.
Reason is your voice in debates about politics, culture, and ideas. Our annual Webathon is underway and your tax-deductible gift will help us fight against big government, crony capitalism, the drug war, and so much more. For details on giving levels and swag, go here now.