Obama and Putin Meet But Don't Make Ground With Talks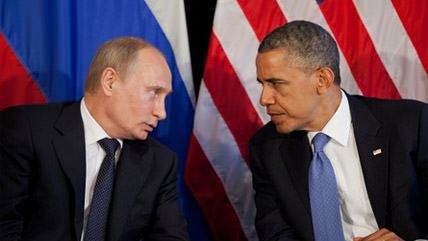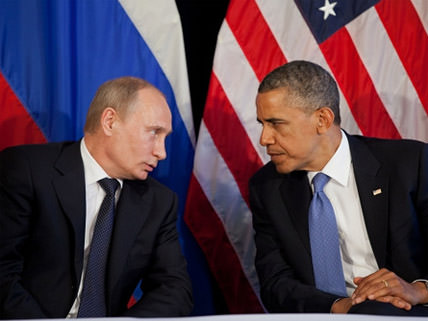 Tensions between the U.S. and Russia are at their highest point since the Cold War, and all eyes have been on President Barack Obama and Russia's Vladimir Putin to begin mending relations. The two met and had an informal discussion at the Asia-Pacific Cooperation (APEC) summit in Beijing yesterday, but it seems like they've made no ground.
Both sides played down the significance of the moment. "They only had a brief encounter where they didn't have time to cover issues," a senior U.S. official said. "We'll let you know if they interact/cover issues tomorrow."

Kremlin spokesman Dmitry Peskov also described a short exchange while holding out prospects for further discussions. Both will also attend a G20 summit in Brisbane later this week.

"There were no talks. They greeted each other," Peskov told Russian journalists in Beijing. "They exchanged a few lines."

They would seem to have much to discuss but little chance of finding common ground. Communicating mostly by telephone over the past year.
A major point of contention is the war in Ukraine, which Putin denies instigating in spite of overwhelming evidence to the contrary. The Obama administration has been hitting Russia with both targeted and broad sanctions in order to deter further conflict on the ground, but Ukraine is currently facing some of its bloodiest days yet.
Secretary of State John Kerry was also at the APEC summit and met informally with Russian Foreign Minister Sergei Lavrov, and it seems like Russia holds the upper-hand in any talks.
"We do have some disagreements about some of the facts on the ground with respect to Ukraine. We have agreed to exchange some information between us regarding that. We have also agreed this is a dialogue between us that will continue," Kerry reported after the meeting. Talk about an understatement.
The White House issued a stern warning, saying that it's "very concerned by intensified fighting in eastern Ukraine" and Russia's provocation of it.
That's not tough enough talk to deter Russia from pulling back the dozens of tanks it sent into Ukraine late last week.
The two countries are also divided on how to deal with the ISIS war in Syria. Russia is an ally to the Assad regime, but Obama wants Assad out of power. 
Obama will have another chance to address his issues with Putin soon. The two are set to have informal discussions at the G20 summit in Brisbane this weekend.