Kerry to Talk With Russia Tomorrow. Putin Sends Tanks Into Ukraine Today.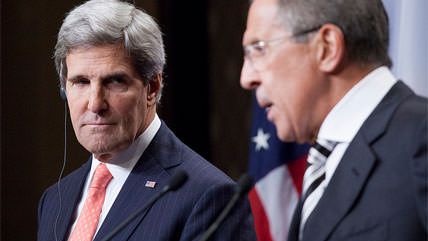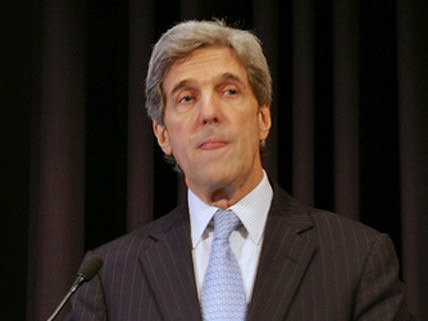 Russia is making no effort to conceal its invasive war in Ukraine anymore. Secretary of State John Kerry will meet with Russian Foreign Minister Sergei Lavrov tomorrow to discuss the situation.
A Kremlin source tells reporters that the two will have an unofficial "sideline" meeting in Beijing at the Asia-Pacific Economic Cooperation summit tomorrow. The two have met nearly a dozen times this year, but tensions between the U.S. and Russia have only escalated, as has the bloody, brutal war against Ukraine.
Kerry, as well as German Chancellor Angela Merkel, this week called for more economic sanctions against Russia for supporting sham elections in Ukraine's war-torn east.
President Barack Obama is also set to have an unofficial meeting with Russian President Vladimir Putin at the same summit, as well as at the G20 summit in Brisbane soon thereafter.
Is this going to be too little, too late?
Russian tanks and ballistic-equipped units are reportedly already crossing into Ukraine. From Reuters:
Thursday's cross-border incursion, if confirmed, is a significant escalation of a conflict that has killed more than 4,000 people since the separatists rose up in mid-April and would call into question Russia's commitment to a two-month-old ceasefire deal… .

"Supplies of military equipment and enemy fighters from the Russian Federation are continuing," [Ukrainian] military spokesman Andriy Lysenko told a briefing in Kiev, describing a column that included 16 big artillery guns and 30 trucks carrying troops and ammunition as well as 32 tanks.
Putin was just declared the world's most powerful person by Forbes. Obama came in second place.
In spite of much admiration, even from Fox News hosts, for his strongman exterior, Putin may have a less coherent plan than he appears. One exiled oligarch who used to be a close aide to the Kremlin Gremlin tells Time this week that the autocrat is just winging it. "Putin is not someone who sets strategic plans; he lives today."
And, his land-grab is costly. Russia's economy is tanking to recession levels, partially due to American and European Union sanctions. Today, against the dollar Russia's currency is worth 41 percent less than it was on January 1. Russians wealthy and educated enough to flee are doing so.
Read Reason's coverage of the Cold War-esque conflict between the Obama and Putin administrations. Check out this funny Russian propaganda in which Putin spanks Obama.