Obama and Putin Likely to Have Informal Talks as Russia Advances on Ukraine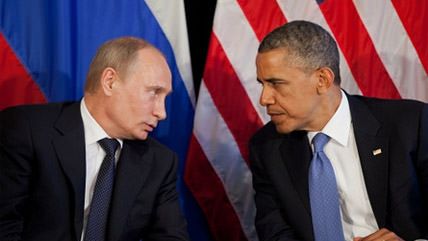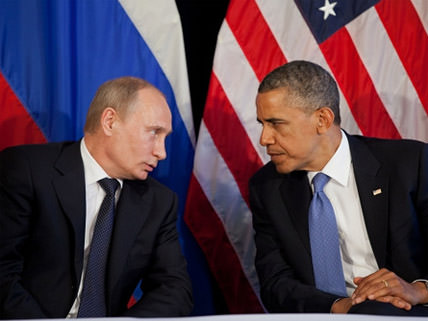 President Barack Obama is likely to have informal talks with Russia's Vladimir Putin as tensions continue to rise over the war in Ukraine.
Both the leaders are scheduled to be at the Asia-Pacific (APEC) summit in Beijing and the G20 summit in Brisbane next week. Although an "official bilateral meeting between Obama and Putin [is] not anticipated," a senior U.S. official tells Reuters, "there [is] a good chance they would find time to talk informally at the APEC gathering." The two will also likely talk about Syria and the ISIS insurgency.
The State Department this week blasted Russia for supporting "sham" elections that put pro-Kremlin puppets in power in the war-torn eastern regions of Ukraine. "Should Moscow continue to ignore the commitments that it made [honoring Ukraine's electoral law] and continues its destabilizing and dangerous actions, the costs to Russia will rise," the department stated.
The U.S. and its European Union allies have been trying to de-escalate Russian aggression through both targeted and broad economic sanctions. German Chancellor Angela Merkel today suggested more robust sanctions to punish Putin. Russia's economy is suffering, due in large part to Putin's own poor handling, and the nation's currency is at record lows.
The war, which has already taken the lives of about 4,000 people and displaced countless others, shows signs of getting worse. Russia continues to violate ceasefire and political agreements made last month, called the Minsk Protocols. "Recently we are seeing Russian troops moving closer to the border with Ukraine. … Russian special forces [are] inside eastern parts of Ukraine," says Jens Stoltenberg, Secretary General of NATO. The U.S. is the largest supplier of troops and funding for NATO.
Russian-American relations look like they've hit their lowest point since before the Soviet Union crumbled. Reason recently highlighted the fact that American diplomats are being harassed, White House computers have been hacked, and Russia is flying provocative, nuclear-capable flights over Europe. Also, a Moscow art gallery just opened featuring a caricature of Putin spanking Obama.