San Diego County Sheriff Sued by Ares Armor CEO Over Censorship on Department's Facebook Page
Dimitrios Karras, who runs a weapon kit firm called Ares Armor, yesterday sued William Gore, sheriff of San Diego County, the county itself, and unnamed administrators of the department's Facebook page in U.S. District Court for the Southern District of California. Ares' dedicated website about the suit.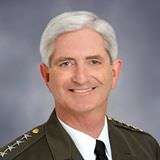 Sheriff Gore was, in his previous career with the FBI, one of the principals on the scene during the Ruby Ridge standoff in 1993, which ended with the murder by the FBI of an unarmed woman, Vicki Weaver, who was at the time holding an infant child. (See Reason's 1993 feature story by Alan Bock, "Ambush at Ruby Ridge.") Gore's role in Ruby Ridge has made him a target for many still outraged by the government's behavior during the incident
According to Karras' own suit, the S.D. Sheriff's Facebook page used to have this statement on it:
We are not opposed to dissenting opinions on topics we post, but we ask that our social conversations remain civil, respectful and on-topic. Many of our postings concern matters of employee and volunteer successes. We believe it is the height of incivility to use those opportunities to vent about unrelated topics or offer unrelated insults. We are respectful of the right we all have to free speech. We invite any users with opinions on any topic to post anything they want on their social media accounts. We simply ask for a degree of civility when making comments on our pages. Any user would likelyexpect the same of those posting made by others to their pages.
Karras tells me tonight that that statement disappeared from the site today.
Karras had comments of his deleted from the Sheriff department's Facebook page, and then was eventually barred from posting on the page entirely. One of the comments he had deleted, according to his suit, filed under an alias, was:
Sheriff Gore: Do you plead the 5th about your involvement in the MURDER of an unarmed woman who was holding her baby? REMEMBER RUBY RIDGE.
Karras believes that the department's reserving the right, as stated above, to keep away "unrelated topics or…unrelated insults" is in fact government censorship of political commentary, and actionable under the First Amendment. In his complaint Karras alleges:
Plaintiff lost valuable time investigating Defendants' First Amendment violations and notifying Defendants of its First Amendment Violations. Accordingly, Plaintiff has suffered unnecessary damages in lost productivity. Plaintiff suffered irritation, shame, and humiliation of being denied the same access to a public forum, as any citizen of the United States should enjoy. Defendants, by denying Plaintiff's political speech, caused Plaintiff to lose a critical opportunity to communicate on topics of importance to society….

Plaintiff alleges that no reasonable police officer, knowing that the First Amendment right to engage in political discourse in a designated public forum is "clearly established," would so wrongly and arbitrarily regulate political discourse in the same manner as Defendants. Plaintiff alleges that Defendants, even after being placed on notice of First Amendment violations, ratified its previous wrongful behavior, and continues its wrongful custom or practice to censor the public debate.
The suit further argues that the manner in which the comments were deleted, with no chance of discussion or recourse, violated his rights to due process. He further claims violations of California state constitutional free speech guarantees. Karras is seeking compensatory and punitive damages. The Sheriff's department said it cannot comment on ongoing suits and referred me to the County Counsel's office, who have not yet responded to a request for comment; will update if they do.
In an emailed statement, Karras got to the nub of his complaint in less legalistic language:
A government entity that uses tax dollars to set up and maintain a Facebook page as a designated public forum cannot use more tax dollars to then violate the 1st amendment rights of speakers in that designated public forum through arbitrary censorship.
Imagine if you were told that because the government owned a sidewalk, you were forbidden from criticizing them while walking down it. Then further imagine that they use tax dollars to hire a security guard to ensure that you may never walk down the sidewalk again because they previously found the words you spoke to be "uncivil".
Ares is partnered with Cody Wilson in his "ghost gunner" project of making untraceable lower receivers for AR-15s.
Ares was also raided by the ATF back in March, in search of consumer records and questioning whether his plastic lower receivers themselves constituted firearms. This was the subject of this March Reason TV video:
Among the comments in a thread about Hallowe'en safety on the Sheriff's department Facebook page that I found about 90 minutes ago, as yet undeleted:
Ryan Minch Will you be shooting children as well or just their mothers this weekend?

2 hours ago · Like · 24

Joshua Tremblay Don't forget to check your brownies for foreign substances and ensure that you and your loved ones don't get murdered on the orders of rogue government agents.

2 hours ago · Like · 18

Tim Costa Pretty sure shooting a child's mother while she is holding him isn't very safe for them.

2 hours ago · Like · 16

Joshua Tremblay Taking comments down won't bring innocent people back from the dead, either.

2 hours ago · Like · 11

Brian Hansen I would like to know why my comment was deleted no bad language was used just truth? I figured since this page is administered by a person on the payroll of San Diego SO it would be considered free speech

about an hour ago · Like · 13

Gunner Bakke Try not to shoot any mothers on the 31st

about an hour ago · Like · 7

Matt Harrell I love America. It's a country where you can be in charge of an operation that got a mother and a child murdered by the very people SWORN to protect them. Then a few years later be elected as a sheriff of one of the premier counties in the country. What a country.

about an hour ago · Like · 9

Michael Taylor Sometimes the truth hurts. I wonder how he sleeps at night, knowing he willingly murdered a woman holding a baby?

about an hour ago · Like · 6

Tim Costa If you mention v i c k i e w e a v e r your post gets flagged.

about an hour ago · Like · 8

Sean Michael Štimac Kids do love candy, they also love it when rogue feds don't shoot their mothers in the head.

Mike Sherman You sleep well at night sheriff? Or do you hear the voices of the Americans blood that are on your hands