Kenny G Backs Down on Hong Kong Support After Chinese Reprimand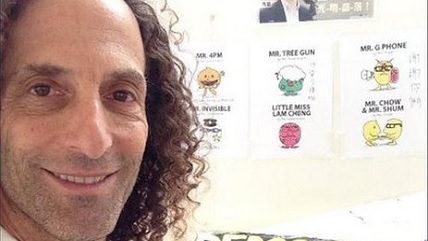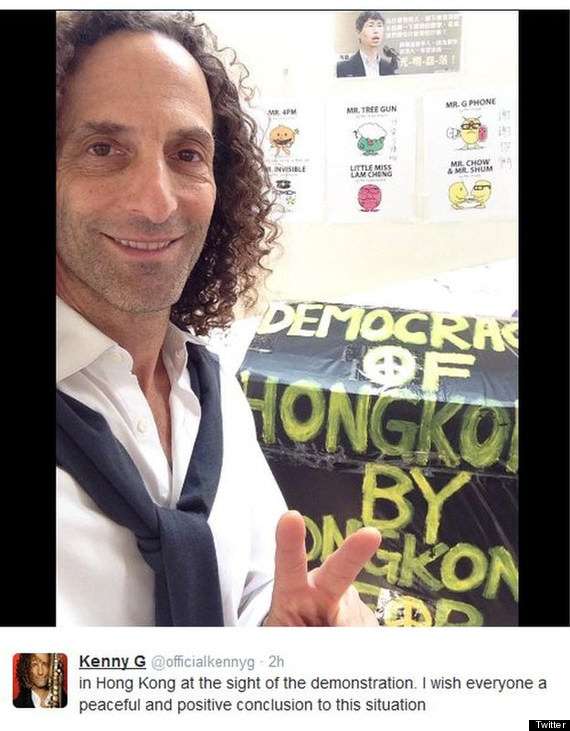 As we know, countless thousands of pro-democracy protesters, known as "Occupy Central," have taken to the streets of Hong Kong, pushing back against China's unrepresentative control over the city's political leadership. In the middle of this fight wandered (ever so briefly, he swears) an unlikely individual: Kenneth Gorelick, a.k.a. Kenny G.
Yes, the smooth jazz saxophonist with funky hair walked right into the heart of the protests on Wednesday and posted a picture of himself on Twitter with the caption, "In Hong Kong at the sight [sic] of the demonstration. I wish everyone a peaceful and positive conclusion to this situation." That sounds just as benign as his music.
Within hours the Chinese government issued a reprimand:
Kenny G's musical works are widely popular in China, but China's position on the illegal Occupy Central activities in Hong Kong is very clear. We hope that foreign governments and individuals speak and act cautiously and not support Occupy Central and other illegal activities in any form.
Indeed, Kenny G is wildly popular throughout China and Hong Kong.
So, the offending Tweet disappeared, and Mr. G serenaded his authoritarian fans with a slew of new tweets, which he also put together in a Facebook status:
I was not trying to defy government orders with my last post. I was in Hong Kong as a stop on my way to perform at Mission Hills and happened to walk by the protest area as I was walking around Hong Kong as a tourist. Some fans took my picture and it's unfair that I am being used by anyone to say that I am showing support for the demonstrators. I am not supporting the demonstrators as I don't really know anything about the situation and my impromptu visit to the site was just part of an innocent walk around Hong Kong. I love Hong Kong and always come here to perform when I'm asked to. I love China and love coming here to perform for over 25 years. I only wanted to share my wish for Peace for Hong Kong and for all of China as I feel close to and care about China very much Please don't mistake my peace sign for any other sign than a sign for Peace.
On Thursday The Atlantic published an interview with Kenny. He denies that he gave encouraging words about democracy to protesters, insisting that he was just passing through and only hung around for a few minutes, and that it was other people taking the pictures, not him.
Is Kenny G some kind of Maoist commie? Probably not. Does he like not being banned from China and thereby cut off from his ridiculously huge fanbase and their money? Most likely.
Still, Kenny G waded into an international political affair, and he disappointingly came out of it squarely neutral. Not really an admirable stance when one side is composed of hopeful, educated freedom fighters who demonstrate peacefully, speak politely, and clean up the streets they occupy, whereas the other side is a historically brutal, oppressive goverment currently using police to gas and beat their counterparts. Yes, the same government that worries democracy will be too empowering for the poor.
Not that others have stepped up to the plate to robustly criticize China. American universities regularly cave to the nation's censorship demands, and the Obama administration offered the ultimate milquetoast finger-wag when it proclaimed that both sides of the current unrest ought to show "restraint."
The latest news on the situation is that proteste leaders "plan to hold a spot referendum Sunday on whether to stay in the streets or accept government offers for more talks and clear their protest camps. The three main groups behind the demonstrations said Thursday they would register public opinion at the main downtown protest site, where thousands remain camped out," reports NBC.