Goodfellas Actor Suing Simpsons Because Mafia Character Looks Like Him
Twenty-five years after the release of the mafia gangster movie Goodfellas, and twenty-three years after the mafia characters on the The Simpsons were introduced on the animated television show, one of the actors in Goodfellas is suing the creators of The Simpsons because, he alleges, they stole his likeness in creating one of the mafia characters. The actor is Frank Sivero, who played Frankie Carbone and says the Simpsons character gangster Louie looks like him. Here's a side by side: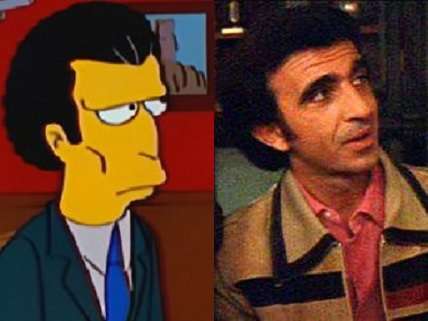 It's hard, I think, not to see a resemblance, but the idea that performing artists be able to "own" the broad features of characters they create seems ridiculous. Even if you've never watched Goodfellas, the Simpsons character looks like what you might imagine a member of the mafia looks like.
Sivero doesn't explain why he waited more than two decades to sue, but does explain why he thinks the creators of The Simpsons "stole" his character. Via NBC News:
Silvero claims in a lawsuit filed on Tuesday in Los Angeles Superior Court that in 1989 he lived in a Sherman Oaks apartment next door to "The Simpsons" writers and that "Simpsons" producer James L. Brooks was "highly aware of who Sivero was, the fact that he created the role of Frankie Carbone, and that 'The Simpsons' character Louie would be based on this character."

"During this time, both writers knew who Sivero was, and they saw each other almost every day," the complaint alleges. "They knew he was developing the character he was to play in the movie 'Goodfellas,' a movie Sivero did in 1989. In fact, they were aware the entire character of 'Frankie Carbone' was created and developed by Sivero, who based this character on his own personality."
Can I say ay caramba or is it going to get me sued? Will the Department of Homeland Security have to get involved?
Related: This summer Sivero sued a deli in Los Angeles for selling a sandwich called the Frankie Carbone.