Cop Militarization in NY: Every MRAP, Cargo Plane, and $800 Coffee Pot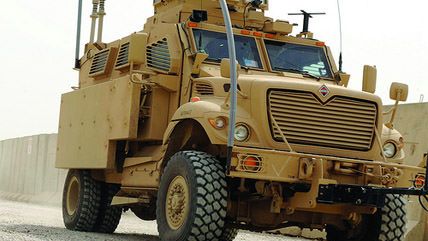 MuckRock, a site dedicated to making Freedom of Information requests, has released a massive document detailing every single piece of military-grade equipment owned by police departments throughout New York.
Here's a map of it all:
Some of the findings:
The village of Quogue on Long Island's south shore boasts fewer than 1,000 residents, but last month its police department received two surplus military trucks worth a combined $150,000.

Since enrolling in the same program in 2012, police in Albion, a village of 6,000 near the Canada border, have added a bomb robot and two Humvees to inventory. …

Since enrolling in 1995, the NYPD has obtained four armored trucks valued at $65,000 each and two former artillery vehicles known as mortar carriers valued at more than $200,000 each. The NYPD received one such heavily armored vehicle in June 2012.

The New York State Police received two cargo planes, one in 1996 and another in 2010, together valued at $2.8 million, as well as a $900,000 helicopter in 2013.

The New York State Park Police also obtained a dozen M-14 rifles and two military trucks.

University police at three State University of New York campuses have received equipment through the 1033 program: police at Morrisville, Oneonta and Old Westbury each obtained one Humvee and three assault rifles since 2011.

The law enforcement division within the New York State Department of Environmental Conservation received 68 M-16 rifles, all in May 2012. …

Combined, New York law enforcement agencies have received nearly 300 assault rifles via the program, plus three fully tracked armored vehicles, two cargo planes, six helicopters, eight bomb robots and more than 150 military trucks and Humvees.
The document, released by the New York State Division of Criminal Justice Services, is a treasure trove of information that deserves a close inspection from taxpayers curious why the Police Department of Southampton, a town 26 feet above sea level, needs climbing boots. Or a camera apparently with pictures already on it.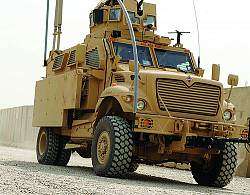 There's a lot more eyebrow-raising equipment that one wouldn't think of as conventional military gear. Suffolk County police got 20 televisions. Nassau County received a coffee maker worth nearly $800. The Rye Police Department got $2,500 exercise bike.
More than 120 departments in the state have received some 6,221 items worth $28,082,595.11.
Late last year when Albany County got a mine-resistant ambush-protected vehicle (MRAP), an 18-ton behemoth designed for asymmetrical warfare in Iraq, Sheriff Craig Apple praised the vehicle for being "intimidating." In nearby Warren County, Undersheriff Shawn Lamouree, who also got an MRAP, stated that his department needed one because "it's very common for people to have high-powered hunting rifles."
All this equipment comes from the Defense Department's 1033 Program, which offers domestic law enforcement surplus military gear, like grenade launchers, for the price of shipping. Since 2006, cops nationwide have received some 80,000 rifles, 12,000 bayonets, $3.6 million worth of camouflage, and much more. In total, the program has transferred over $5 billion worth of equipment.
Police have participated in a number of high-profile shootings and aggressive crowd control with military equipment, and since the death of Michael Brown and the subsequent treatment of protesters in Ferguson, Missouri, the president has called for a review of the 1033 Program, and Congress is considering how to better "monitor and hold accountable" cops with MRAPs, grenade launchers, and other sophisticated gear.