Microsoft Predicts Who Will Win Midterm Elections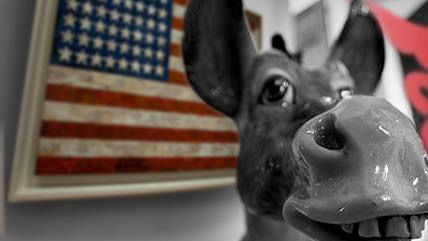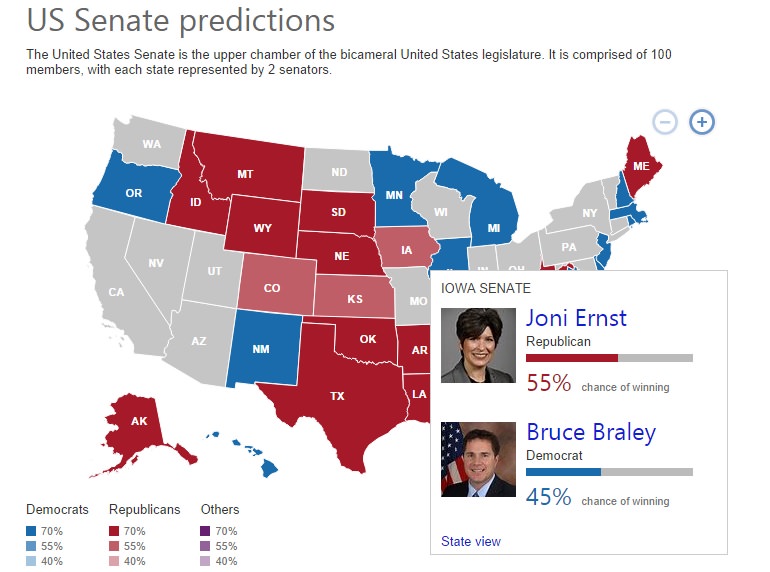 Who will win the midterm elections? Microsoft this week launched a new service that predicts the winner of each Senate, House, and gubernatorial seat over which politicians are fighting.
Called "Bing Elections," the tool anticipates that the Republican Party will without question remain in control of the House and they will likely the take control over the Senate. There's only 10 percent confidence in Democrats' ability to keep the Senate, and in that case, they'd only have two more seats than their counterparts.
Microsoft suggests that Democratic senatorial candidates will easily win or retain seats in twelve states: Oregon, New Mexico, Minnesota, Michigan, Illinois, Virginia, North Carolina, Delaware, New Jersey, Rhode Island, Massachusetts, New Hampshire, and Hawaii.
The New Republic recently gravely announced, "The fate of the Senate could come down to Alaska."

Well, if the number crunchers at Microsoft are right, the fate of the Senate is in Republicans' hands. GOP candidate Dan Sullivan has a 81 percent chance of winning.
Likewise, in nail-biter swing states Colorado and Iowa, Team Red players have 10 percent leads over their opponents. In spite of former President Bill Clinton's cheerleading in Arkansas, the GOP candidate has an 83 percent chance of winning.
Bing Corporate Vice President Derrick Connell explains why his company got into the game of election forecasting:
According to a recent survey conducted on behalf of Bing, 50 percent of people said that they don't feel confident about voting this November with 70 percent stating they don't feel informed on all the issues. …

Our goal with Bing Elections and the personalized Voter Guide is to arm voters so they can make decisions based on the most comprehensive and best information available. Whether it's the senate race at the national level or a proposition affecting your city, we're hoping to give you the confidence to make the most out of your vote.
This isn't Microsoft's first foray into guessing games. The company also operates the Microsoft Prediction Lab, a crowdsourced "sort of online betting parlor for everything from political races to the U.S. military presence overseas" and apolitical things like NFL games.