Is UKIP's Slow Abandonment of Libertarianism Now Complete?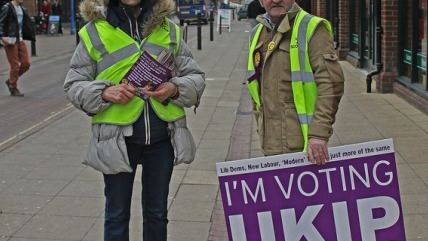 (Flickr/Jennifer Jane Mills )
The UK Independence Party (UKIP) looks set for a night of celebration, with the likely victory of Douglas Carswell in the Clacton by-election. Carswell will be the first elected UKIP member of the House of Commons, an event UKIP leader Nigel Farage has claimed will "shift the tectonic plates" of British politics.
Carswell's election comes at a pivotal time for UKIP, with the party's evolving ideological identity drawing increasing attention from commentators and supporters alike. Their changing identity has involved a slow abandonment of libertarian principles in favor of a strongly anti-immigrant form of populist nationalism.
This slow drift toward statism has previously been covered by Reason's Tom Clougherty, but recent reports from Brietbart London suggest that UKIP has now abandoned libertarianism altogether. Alex Wickham writes:
A few months ago, UKIP's website offered a one line description of itself as "a libertarian, non-racist party seeking withdrawal from the European Union". At some point between then and now, that description changed. It now reads: "UKIP is a patriotic party that promotes independence: from the EU, and from government interference". A subtle difference, but a notable one. UKIP has abandoned its claim to represent a 'libertarian' political ideology. [emphasis added]
Wickham goes on to discuss how the party has reversed its opposition to Britain's National Healthcare System (NHS) and has even begun attacking libertarianism by name.
The article provoked a quick response from Tom Bursnall, a UKIP member of the Windsor and Maidenhead Council and of UKIP's National Executive Committee. Bursnall claimed that UKIP remained a "libertarian party" but that the change in branding was necessary for the party to appeal to a broader section of the electorate:
Does the average chap on the streets of Basingstoke or Bromley know the philosophical attractions of Neo Classical Liberalism? Probably not – so, best to communicate on a level we all understand…In short we are appealing to a broader spectrum of voters than both the Tories and Labour.
Putting aside his reference to "Neo Classical Liberalism," a pejorative term generally used by progressives to create an artificial division between enlightenment-era (classical) liberalism and modern libertarianism, Burnsnall still fails to take into account the effect UKIP's change of strategy has had on the party's makeup.
As Wickham notes:
The party has lost a considerable amount of support from libertarian-leaning people in the last two years, people who made up an important core only a couple of years ago, who have now left the party in disgust.
This shouldn't come as a surprise. There has long been tension within UKIP between its embrace of libertarianism and its embrace of British nationalism. These two conflicting ideological viewpoints were mostly able to coexist while UKIP remained a predominantly EU-focused party. However, the pursuit of domestic electoral success has placed this coexistence under increasing strain.
Ultimately, the libertarianism that existed within UKIP was doomed the moment its leadership decided to base its electoral strategy on an anti-immigrant fearmongering campaign. Bringing new voters and members into the fold had a significant influence on the makeup of the party. From there, it was only a matter of time before the libertarian label, and certain libertarian polices, would start to be seen as electoral liabilities.
If their current approach continues, even UKIP's raison d'etre may be put at risk. The success of efforts to exit the EU will depend on garnering support from across the political spectrum—support that will be far harder to attract if opponents are able to tie an EU exit to UKIP's anti-immigrant populism.