The War on Homeschooling is a War Against American Liberty
Kevin Williamson at National Review has an interestingly impassioned rant against a recommendation that came out of Connecticut's wondering how to prevent future Newtown slaughters: a suggestion that homeschooled kids need more oversight regarding potential behavioral or emotional problems by the state. (Killer Adam Lanza, after spending most of his life in the gentle and salubrious care of public schools, was briefly homeschooled, don't you know.)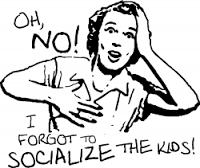 ….it is probably impossible for you to understand how intensely the Left and the government-school monopoly hate, loathe, and distrust home-schooling and home-school families. Purportedly serious scholars such as Robin West of Georgetown denounce them as trailer trash living "on tarps in fields or parking lots" and write wistfully of the day when home-schooling was properly understood: "Parents who did so were criminals, and their kids were truants." The implicit rationale for the heavy regulation of home-schooling — that your children are yours only at the sufferance of the state — is creepy enough; in fact, it is unambiguously totalitarian and reduces children to the status of chattel….

….Our public schools are dysfunctional, depressing, frequently dangerous places. Their architecture is generally penal, incorporating precisely the same sort of perimeter control as one sees in a low-security prison, with dogs, metal detectors, and the whole apparatus of control at hand….
In case you don't see where Williamson is going with this:
Contrary to all of the sanctimony surrounding them, the government schools are in fact the single most destructive institution in American public life, and they are the bedrock of the Left's power, providing billions of dollars in campaign contributions and millions of man-hours for Democratic campaigns….[in them our children] are instructed in obedience and compliance, as though the most important skill in life were the ability to sit quietly and follow instructions; those children who are more energetic than the authorities care for are given psychiatric diagnoses and very often put on psychiatric drugs: Since the 1980s, the rate of antidepressant prescription for children has increased five-fold, while the rate of antipsychotic prescription has increased six-fold. Locking children up for the largest part of the day, in a dreary room with 20 to 30 other children all born within nine or ten months of each other, is a model that make sense — that is something other than insane — only if you think of children as batches — if you believe, as our president and those who share his views believe, that the children are the government schools' product rather than their customers.
That's why, Williamson thinks, homeschooling is anathema to the state:
The Left's organizing principle is control, and the possibility that children might commonly be raised outside of its control matrix is an existential threat from the progressive point of view. Institutions such as free markets and free speech terrify progressives, because they are the result of arrangements in which nobody is in control. Harry Reid and Senate Democrats just tried to repeal the First Amendment because they are horrified that anybody so inclined can broadcast a political message without asking the government's permission or being subject to official oversight…..
Williamson's polemic is a stirring defense of homeschoolers and a frightening take on a dominant mentality in American political and cultural life.