Lena Dunham, Lil' Jon, and Alec Baldwin's Daughter Rock the Vote!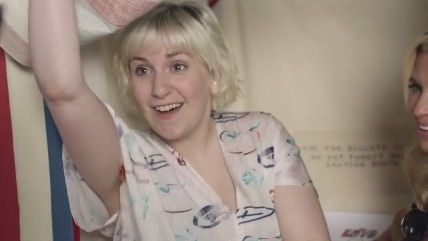 Mismatched celebrities aren't just good for campy 1970s game shows, they also come in handy for smug, painfully earnest, and self-aware get-out-the-vote ads.
Take the latest "Rock the Vote" video, featuring such viral clickbait as Lena Dunham (who famously made a campaign video praising Barack Obama for ending the war in Iraq…LOLZ), rapper Lil' Jon (who apparently is a real guy and not just a great character from Chappelle's Show), and Ireland Baldwin (previously best known as the 11-year-old called a "thoughtless little pig" by her dad, Alec Baldwin). These luminaries are all here to #TURNOUTFORWHAT.
Try to make it through the full 3:27:
You can just hear the pitter-patter of college students racing to the polls after seeing Fred Armisen do a comical take on "The Running Man." But make no mistake, this excruciating video is not the fault of the millenials. Rock the Vote ads have always been lame and incoherent.
Madonna, circa 1992, flanked by two dudes in short-jorts, vouge-ing out such gems as "Dr. King, Malcolm X, freedom of speech is as good as sex…Abe Lincoln, Jefferson Tom, they didn't need the atomic bomb":
In perhaps one of the greatest indignities of their hard-luck career, the Ramones shilled for the Motor Votor Act, with drummer Marky Ramone unable to pronounce the word "registering":
During the Bush/Kerry presidential election campaign season of 2004, South Park struck back for us all against Puffy Puff Daddy P. Diddy Diddy's "Vote or Die" campaign with this gem from the episode "Giant Douche or Turd Sandwich":
Before celebrities #TURNEDOUTFORWHAT, they were pledging their devotion to Barack Obama, which Reason TV paid tribute to in 2012: